Free Classified
Looking to buy or sell something? Please use Dock Street Broker's FREE classified ads page. If you have a boat and are looking to harvest IFQ, or if you have or need deck gear, nets, electronics, etc. you can submit your ad to us by email at manager@dockstreetbrokers.com and we will post it. We can include an appropriate photo as well. Photos should be sent in jpeg format (.jpg or .jpeg). Make sure to include your contact information as you would like it posted in the ad. All ads will be deleted after six months unless otherwise requested.
Dock Street Brokers reserves the right to refuse any ad submitted and makes no representations or warranties of the accuracy of any classified ads submitted.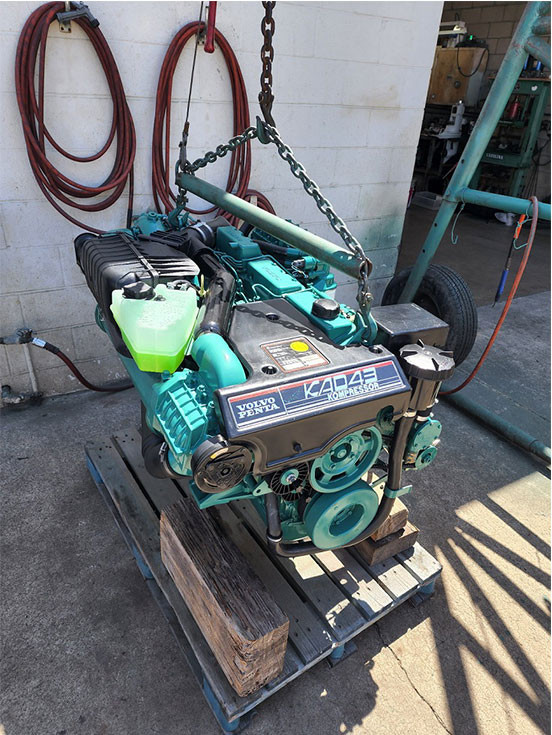 Volvo KAD43-P Sterndrive Marine Engine for Sale
Submitted: 11/29/23
Up for grabs is my KAD43-P Sterndrive marine engine. Ready to bolt up to your DP-E Sterndrive. This unit came out of a low hour (1000hrs). Asking $12,000 Boise. Please contact Mike: Mikearthur002@gmail.com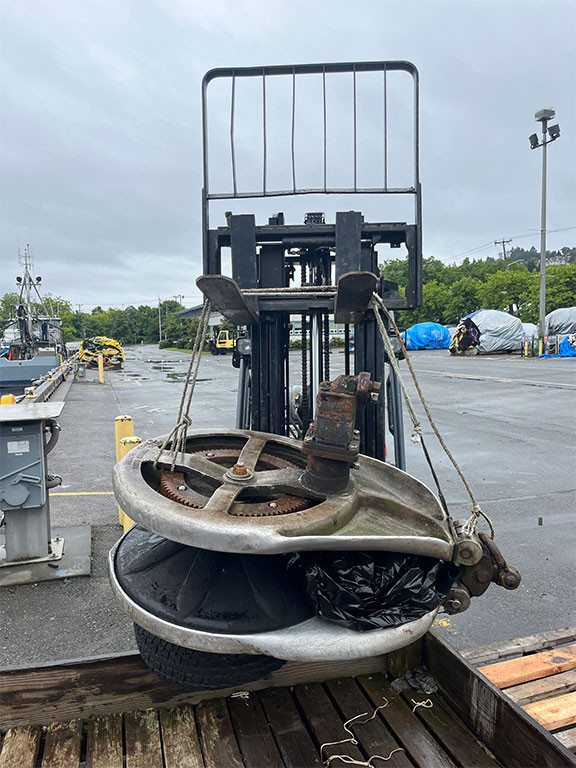 Marco 36" Powerblock w/Motor for Sale
Submitted: 11/20/23
Very large power block for sale, located at the Fishermen's Terminal in Ballard. Great for a net shed or squid/fin-fish operation. Only a few of these blocks were made and they are rare to come by. Good condition. Call or text 907-401-3777 or email Abundancefisheries@gmail.com

220 Cummings Engine and Twin Disc 2.95 to 1 Ratio for Sale
Submitted: 11/16/23
Both had a complete over haul long time ago but never installed. Would make a great repower for 45 to 50 foot vessel. Located in Juneau. $10,000 OBO. 907-723-2987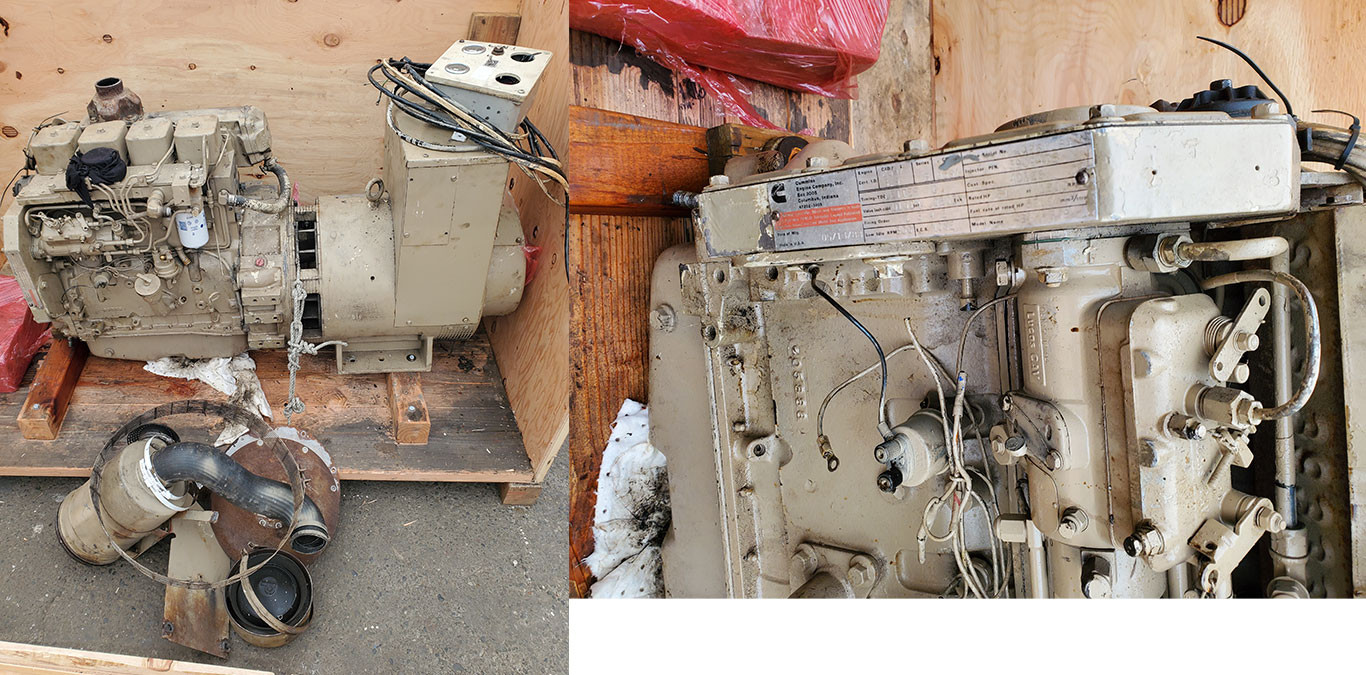 Cummins Diesel 30kw Generator Engine for Sale
Submitted: 11/15/23
Made in 1988, it is running but hours are unknown. Asking $5,000. 206-257-7250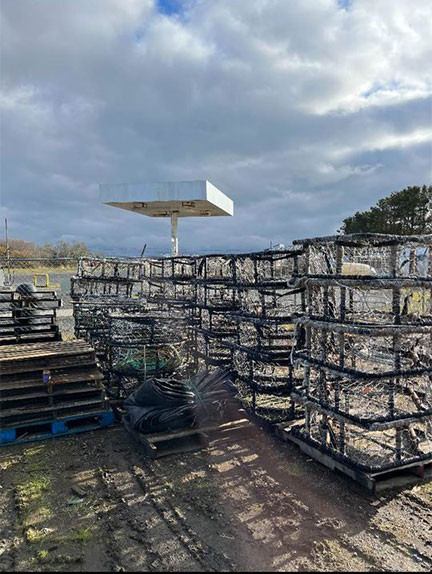 33 Dungeness Crab Pots for Sale
Submitted: 11/10/23
38", 4 tunnel, 120 lb square pots, zincs. Located in Westport, WA. Price $200 each obo. Contact AlaskaWatchdawg@gmail.com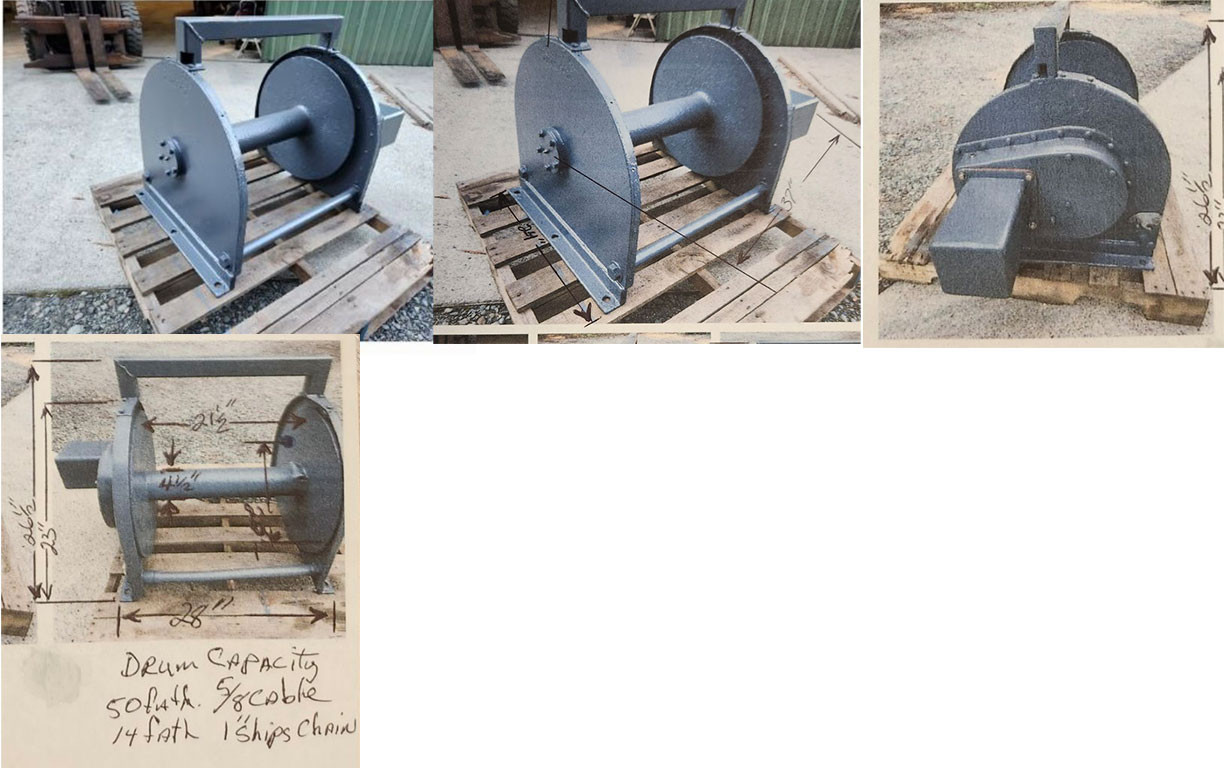 Anchor Winch for Sale
Submitted: 11/6/23
Drum capacity: 50 fa. 5/8" cable plus 14 fa. 1" ship's chain. All dimensions in photos. $1,500. Victor 707-464-7447. Leave message.
Wanted - Chain Driven or Automatic Level Wind for Gillnet Reel
Submitted:10/31/23
206-714-0682 (John)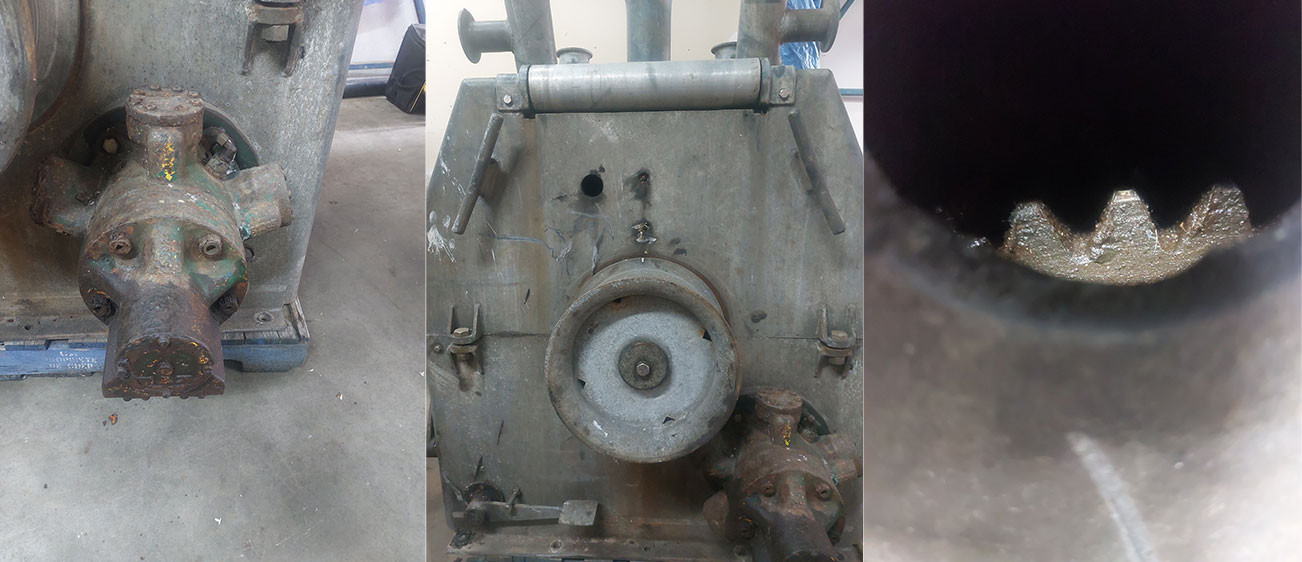 Pilkington Purse Winch for Sale
Submitted: 10/30/23
For parts or whole, 2 speed 5 piston motor, gear set in good condition. 778 836 2990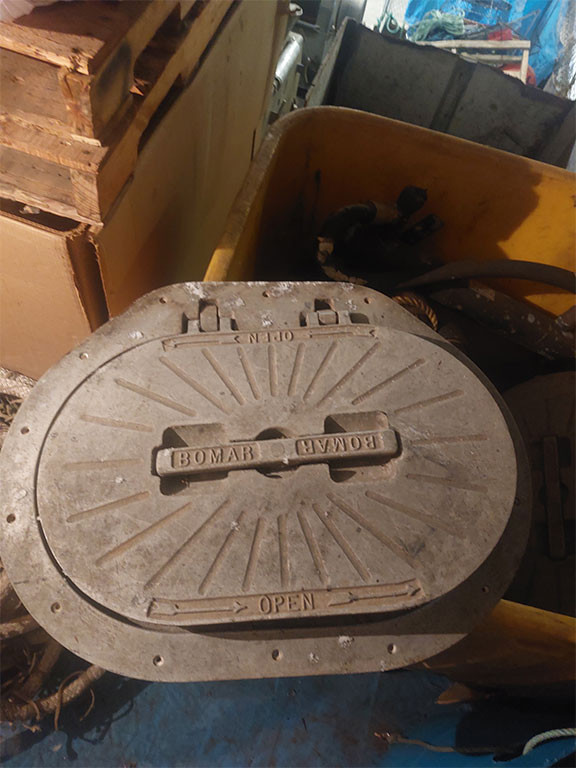 2 Bomar Available
Submitted: 10/27/23
$600 for both. 778 836 2990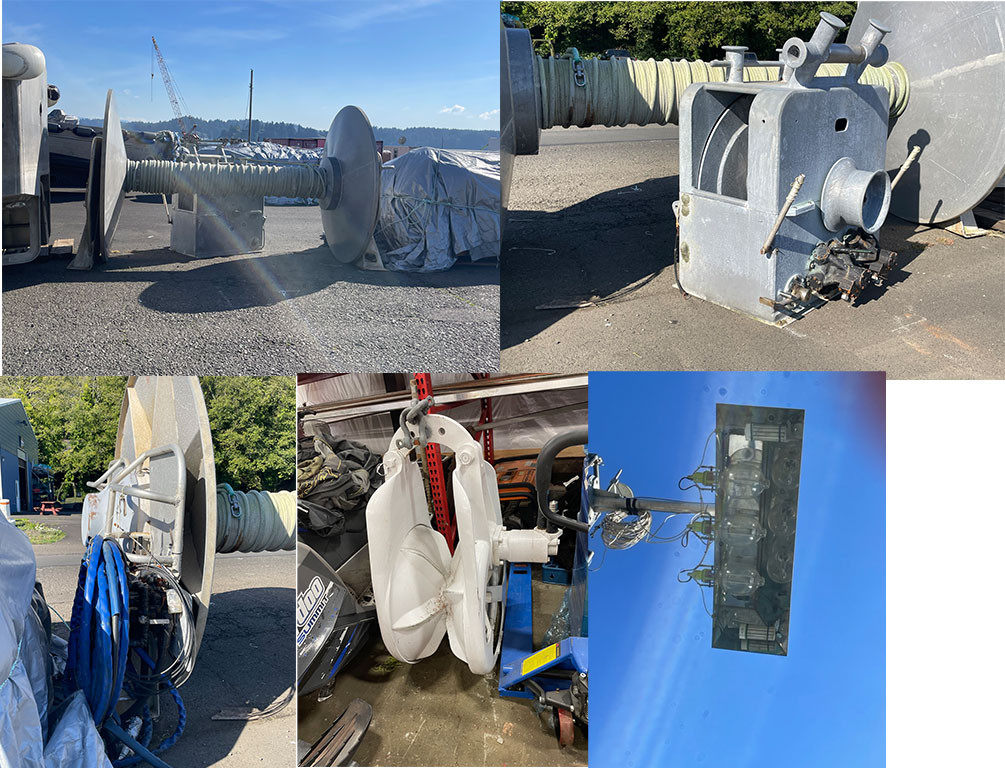 Full Squid Setup for Sale
Submitted 10/27/23
2 nets 10 strip by 200 fathom new tapered bag and shoulder from Ifs $20,000. A 5 strip by 225 fathom shallow net $10,000. Drum and articulating stern ramp $12,000. Pilkington 2 speed winch $5,000. Titanium ring bar with stainless swivel and mount $2500. Pilkington side roller. 10 inch pump, hoses, and dewatering box $5,000. 28 in Marco block, new $8,500. 20x10 skiff with 6bt cummins, (listed on dock street). 4x3k white lights and 2x3k green lights and ballasts with polished stainless hoods with 2k additional led light in each hood $8,000. All gear in great shape, built or rebuilt in last 3 yrs, would make a deal on whole package, have lots of spare net, bag for large net, twine, etc. Contact Clint 541-961-4766.
Dungeness Pots and Block for Sale
Submitted: 10/26/23
104 - 36" x 36" 60# triple tunnel Trilogy, stainless sides, rubber top and bottom, orange web tunnel. 286 - 38" x 36" 90# triple tunnel Trilogy, stainless sides, rubber top and bottom, orange web tunnel. All pots fully rigged with 45fa of neutral line, dive, cork and gill net cork on a 4 fa trailer. 2 scotty jars per pot, rigged with toggles and rings. Asking $175 per for 60#, $225 for the 90#. 22" Warren Junes dungi block, used for one season. Call Aaron at 206-789-5101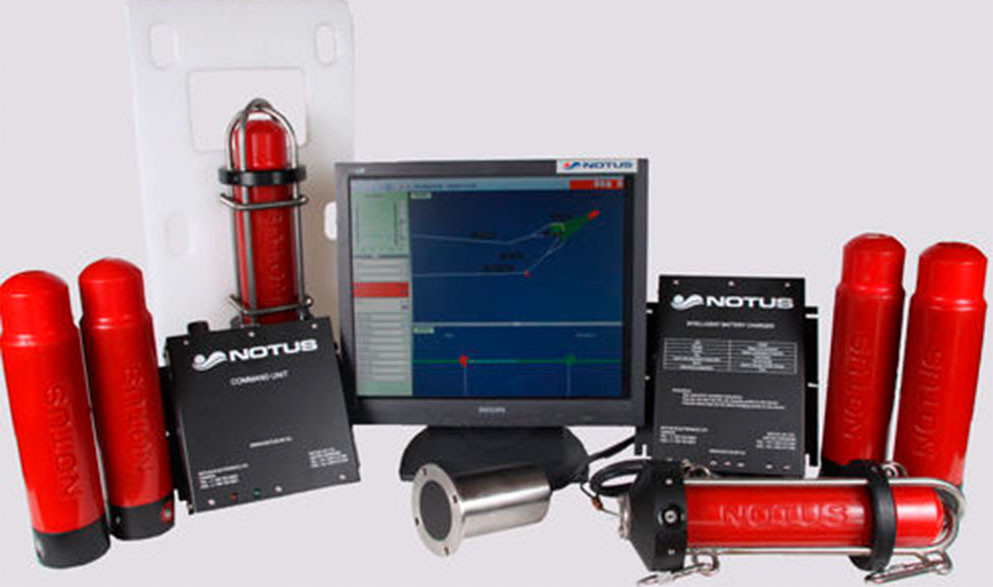 Complete Notus Trawlmaster Net Monitoring System for Sale
Submitted: 10/24/23
$55k. System is brand new with less than 5 days of service - great system- new cost is over $61k. System includes: Trawlmaster command unit, portable trawl hydrophone with paravane, door spread master, depth and wire length sensor, slave sensor, warp measurement, depth sensor, winged spread master with depth and spare, vertical opening master with depth and slave, chargers, stainless door housing, charging rack and mesh bags. Email: oceancatak@gmail.com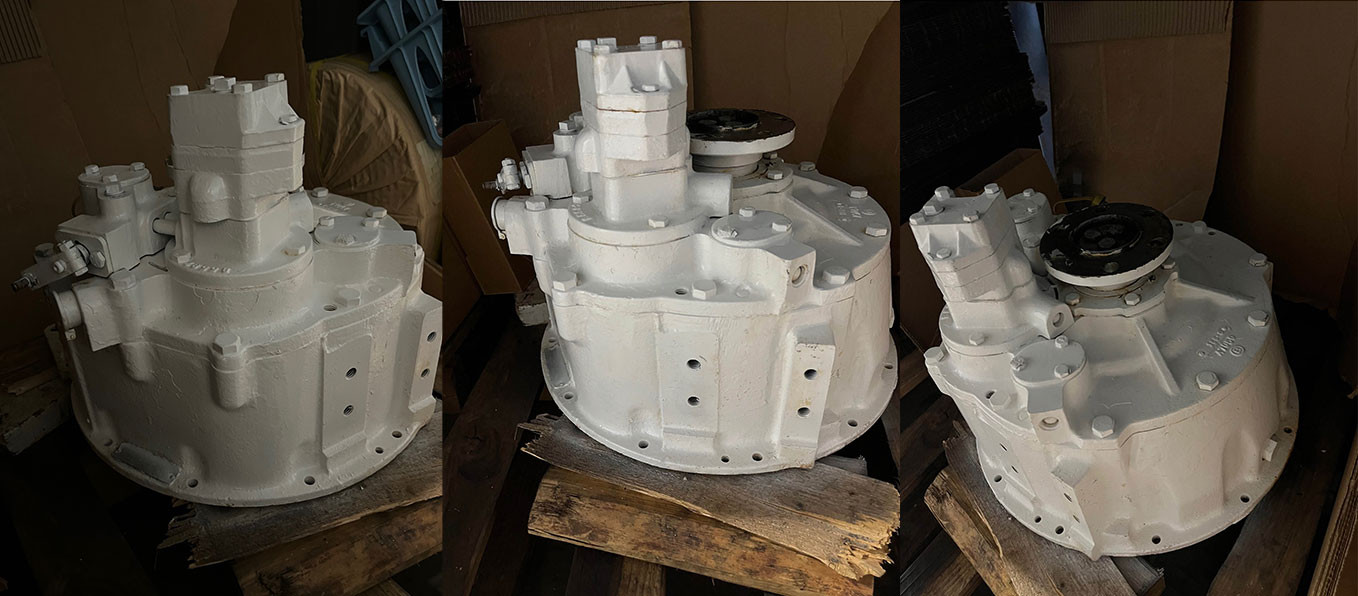 Twin Disc 506 Gear for Sale
Submitted: 10/23/23
Zero hours on rebuild. Gear ratio 3:1. Located in Wrangell. Asking $8,000. Call or text 907-3o5-o622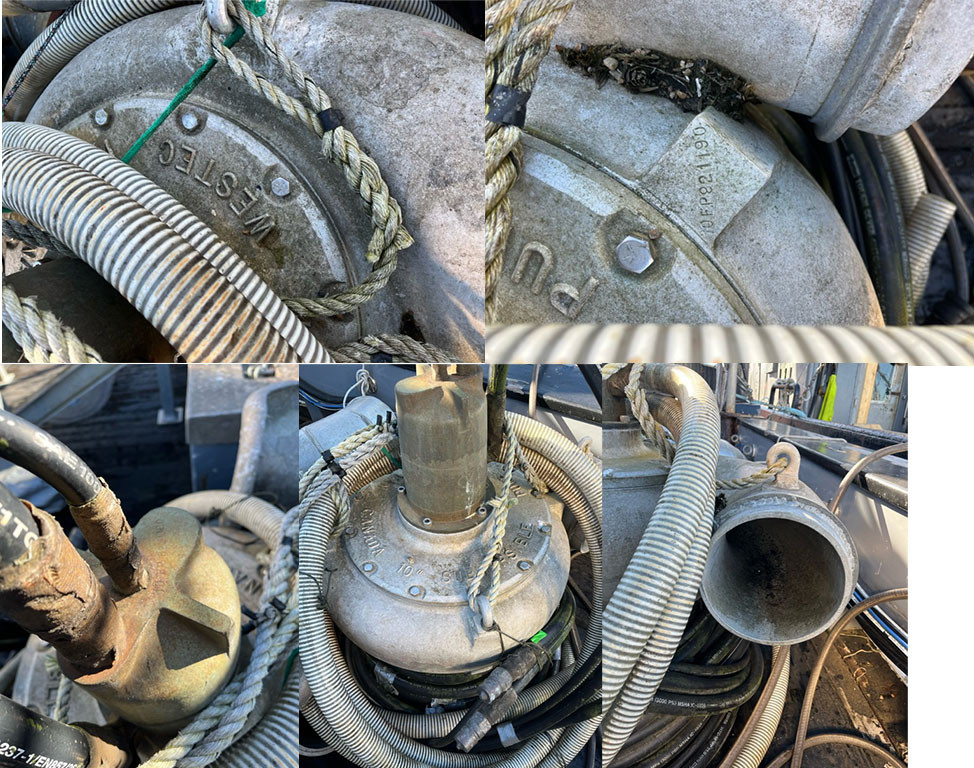 Herring Pump for Sale
Submitted: 10/18/23
10" West with hydro hoses, works great. $5,900 or best offer. 206-948-4114 text or call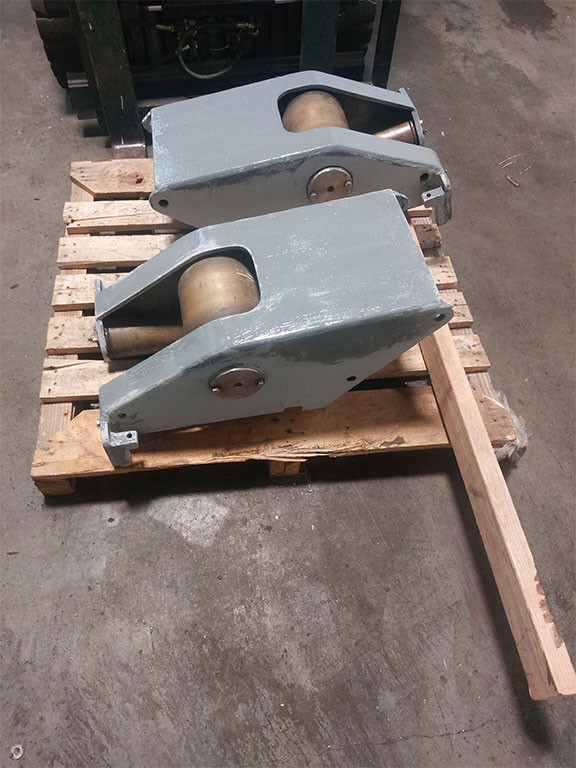 Pilkington Side Rollers for Sale
Submitted: 10/17/23
Pilkington side rollers, 778 836 2990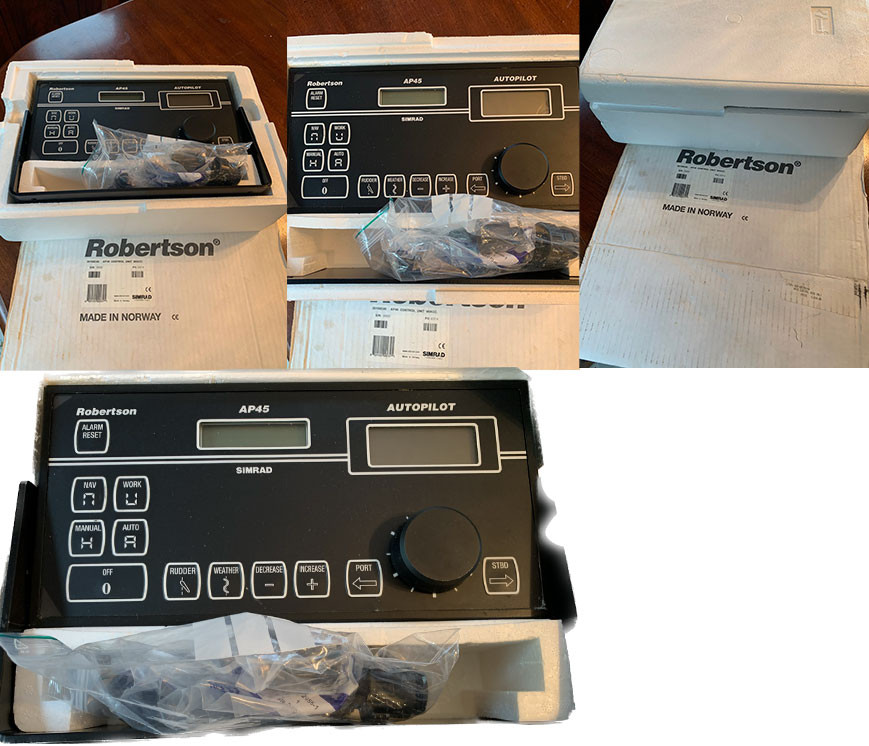 Robertson AP45 Control Head for Sale
Submitted: 10/17/23
Virtually new, new motherboard and faceplate. $500. jansenpacific@comcast.net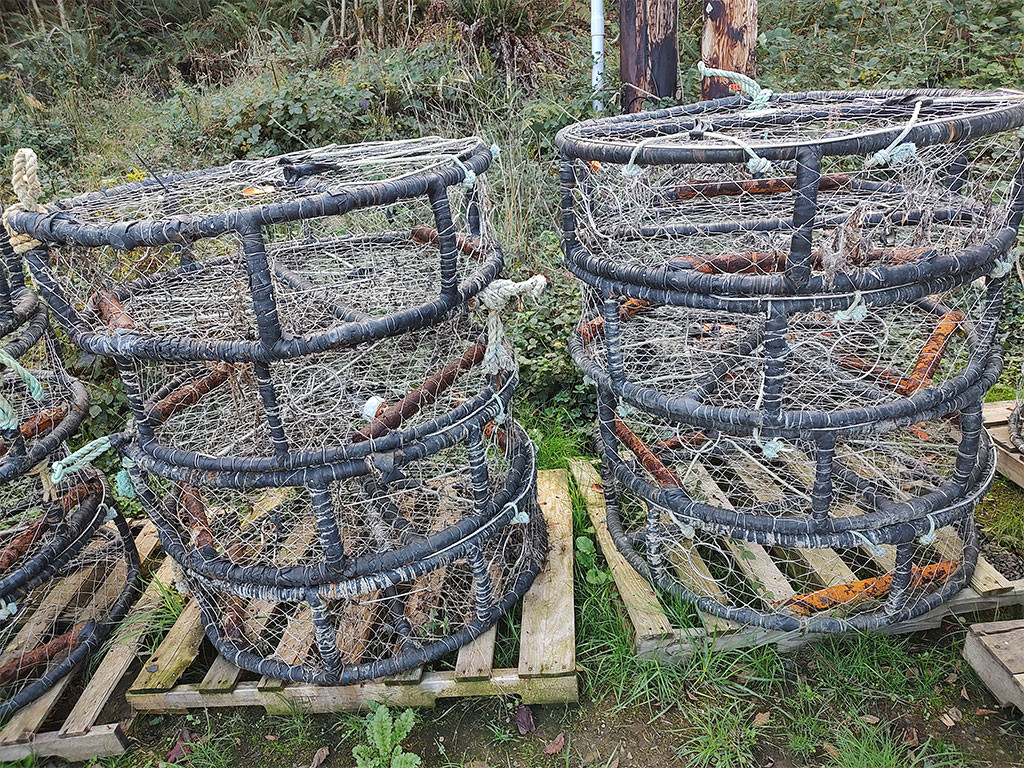 75 pound Crab Pots for Sale x42 Inches
Submitted: 10/11/23
Lot of 15 $1000.00 email knotmasterjohn@gmail.com

Stainless Ball Valves for Sale
Submitted: 10/10/23
6-6" stainless ball valves, 3-3" stainless valves, 9900.00 for all or will sell individually. Leo 9716010459 opieleo@gmail.com

Blackcod Longline Gear for Sale
Submitted: 10/9/23
Total 3,924 hooks, lots of floats, new tubing, marine power cord, anchor, brass prop, lead headed jigs, copper jigs, salmon plugs, etc. Must take all. $7,500 cash. Located in Washington. Contact: wendellscism@yahoo.com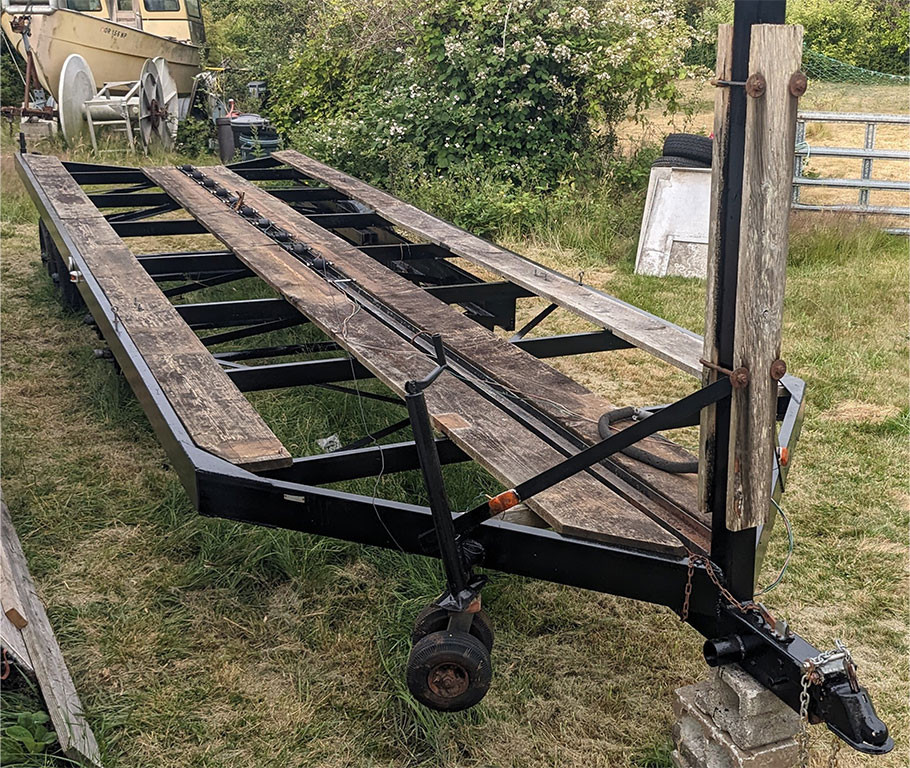 32' Four Axle Trailer for Sale
Submitted: 10/9/23
Heavy duty 32' steel frame four axle trailer. This trailer was manufactured in 1999, was designed to transport a 32' vessel, and was initially used as a building platform for boat builder. We purchased this trailer in 2009, and has seen little use since then. Included with the purchase are a number of tires in reasonably good shape, and other miscellaneous attachments and components for the platform. Some work may be need to be done to bring the brakes and lighting components to proper working order, but overall, this trailer is in great shape and has lots of years left in it. Price is $7,500 OBO, please message with questions! conniemsnell@gmail.com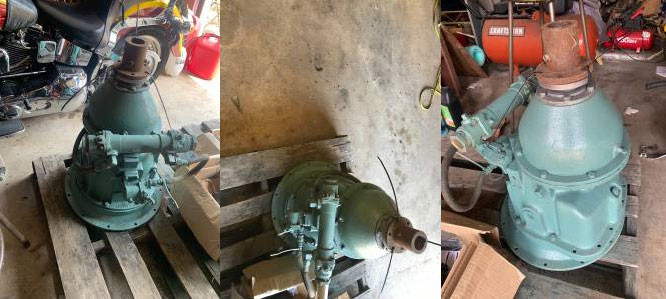 Capital Marine Reduction Gear for Sale
Submitted: 10/5/23
Capital Marine reduction gear 3:1 rebuilt. Asking $800. OBO. Call Eric at 541-305-3231.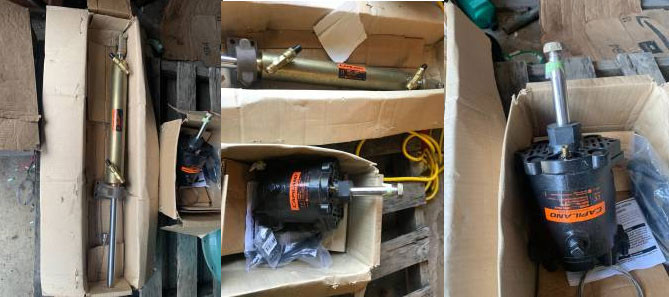 Capilliano Helm Pump and Ram for Sale
Submitted: 10/5/23
Bran new, still in box. Capilliano helm pump and ram - asking $1,500 for both. OBO. If interested, please call Eric at 541-305-3231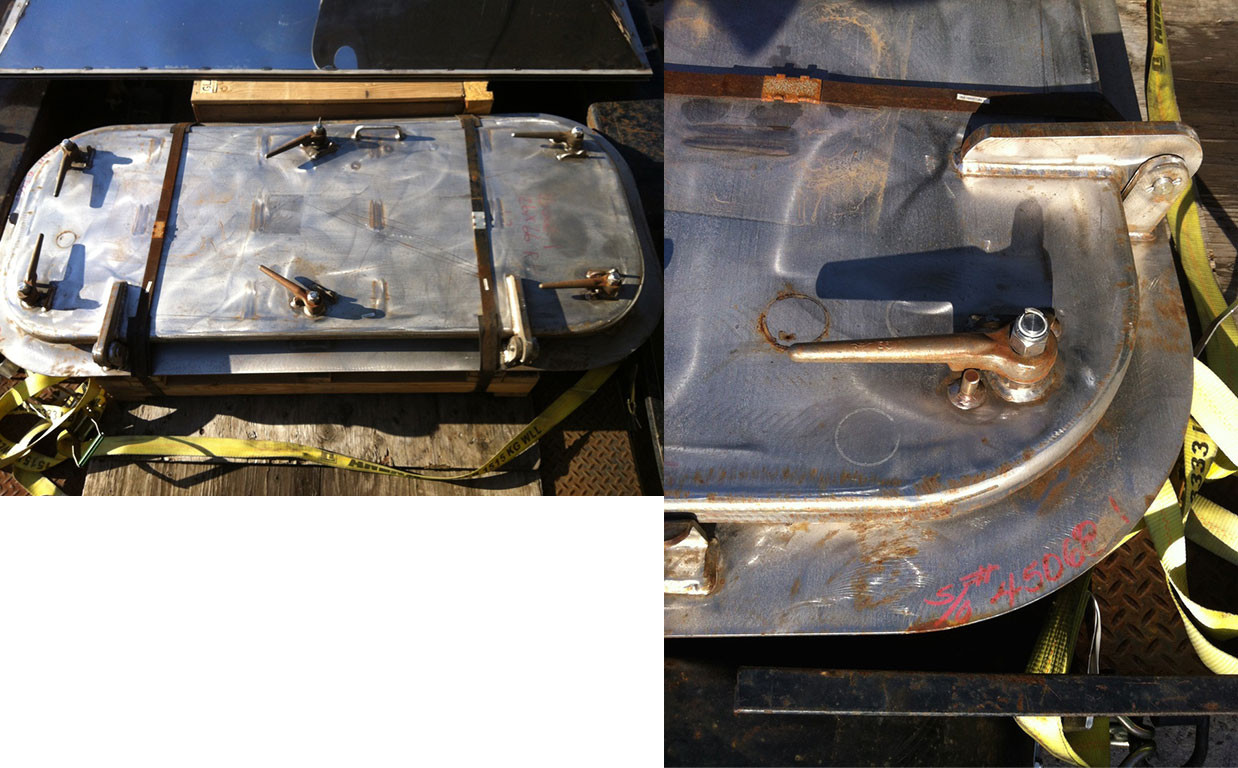 Stainless Steel Door for Sale
Submitted: 9/25/23
Six dog, stainless steel man door with bronze dogs. This door was built to slot into a 58' Delta's bulkhead between fish holds. Never been installed, location is Bellingham. This is one fine chunk of steel. $7,000. Call, 907-321-3453

Equipment for Sale
Submitted: 9/25/23
Boat crane, asking $11,000. Insulated and plumbed fish hold tanks, holds 225,000 lbs, plug and use. Asking $20,000. 30 Ton IMS chiller system. Asking $30,000. Three Detroit 671 engines in various condition, asking $4,000 for all three. 2-5 blade props and 2-3 blade props, 48x32, 3.5 inch shaft, tapered, $5,500 each for 5blade and $2,000 each for three blade. Mycomm ammonia refrigeration compressor, little used, asking $8,000. Additionally, numerous breakers of all types and sized, three twin disc 509 transmissions, 4.05 to 1 ratio, lots of crane demming pumps, circa pumps, Perkins 150kw genset, rudders, ss shafts, etc. 802-779-2557 or alaskatendering@comcast.net

Sablefish Traps for Sale
Submitted: 9/18/23
14 cod coils, new, ready to fish $125 each. 100 conical pots 54" dia bottom ring, used, $100 each. 100 conical pots 60" dia bottom ring, new condition, $150 each. 1000's of fathoms of used like new superset line, 5/8 3/4 and 7/8 inch diameter inquire on pricing. For more information call 541-991-2851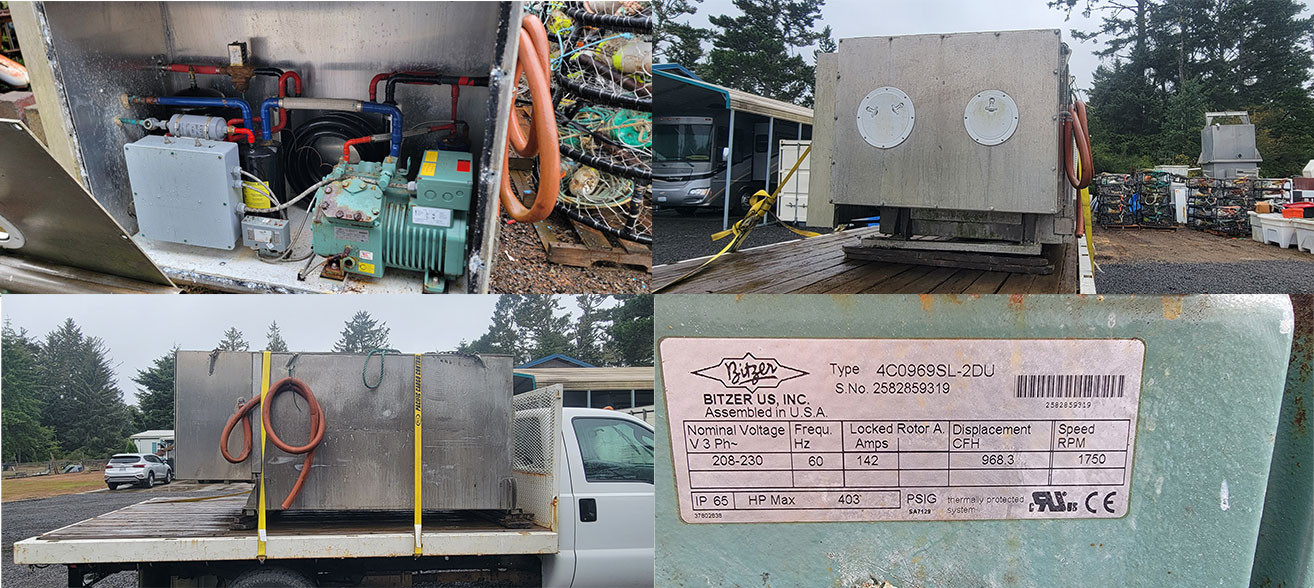 Brine Tank for Sale
Submitted: 9/15/23
Coil system. 25k. Great for bringing fish down to temp for blast system. 10-12 bitzer compressor. Contact Paul (three six zero) 589 8441
69' 1930 Fishing Seiner Gear for Sale
Submitted: 9/12/23
All fishing gear available! Call Matt for more details. FourtwofiveTwothreeeightSevenonefivefour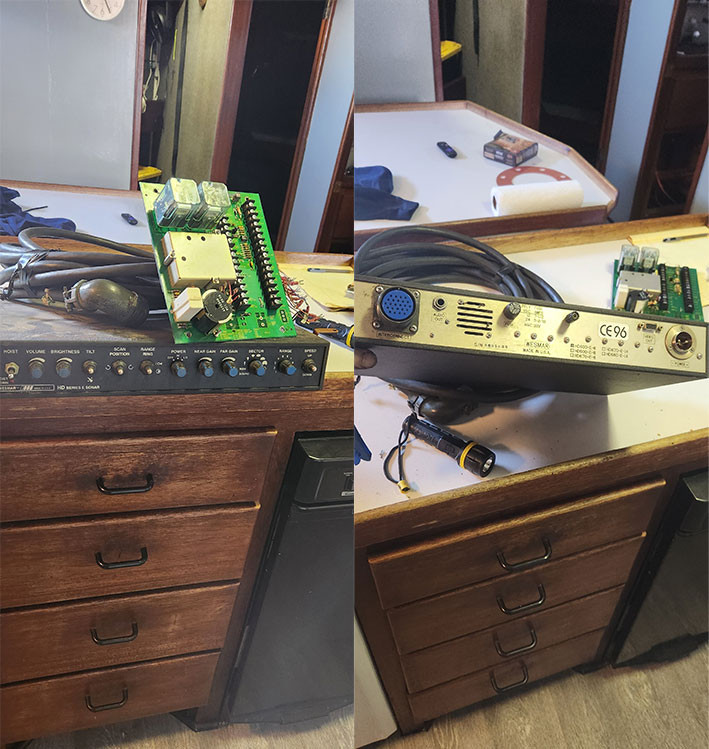 Wesmar Sonar HD 600-E-6 for Sale
Submitted: 9/5/23
Circuit board and cable to control box. $1200.00. Bill 360-951-9213 call.

2019 Used Yamaha 200 HP 4-Stroke Outboard Motor Engine for Sale
Submitted: 9/5/23
$16,500. The motor runs great as it should and is. This low hour motor is extremely clean and in excellent shape overall. All of the original paint and decals look very nice with no fading and shine like new. For more details email: minatokazumi1@gmall.com or call/text: 716-508-7200.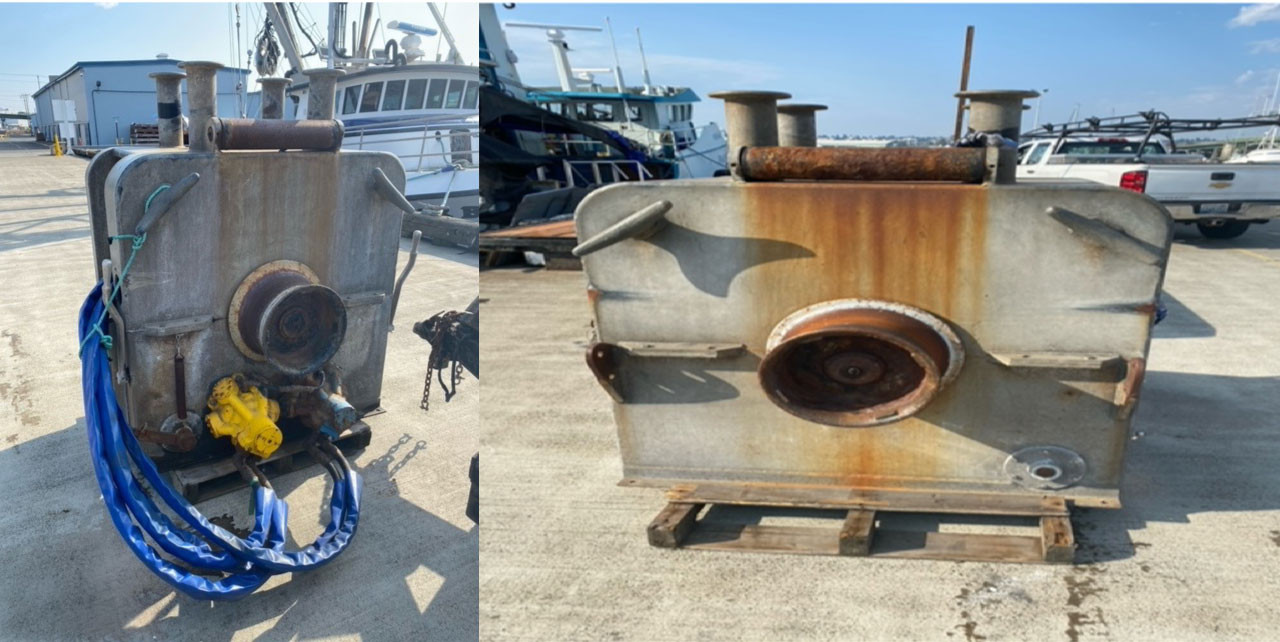 Pilkington Deck Winch for Sale
Submitted: 9/1/23
New motor, needs new handle. Asking $2,000. Call Nick at 206-851-0391

Twin Discs & More for Sale
Submitted: 9/1/23
(1) Twin Disc MG507, 2:1 ratio core parts, trolling valve. (1) Twin Disc MG 506 #3 BH, 1.5:1 ratio RTO. Velvet Drive 71C-72C, 1.52:1, 1.92-1, 2.57-1 ratios. (1) Live PTO for ZF + Twin Disc Tran J-744 B Pad new. (1) MG 5061, 1.48:1 ratio #3 BH. (1) ZF EB-15 12 volt shift block, new. Call 360-371-0430 for more information.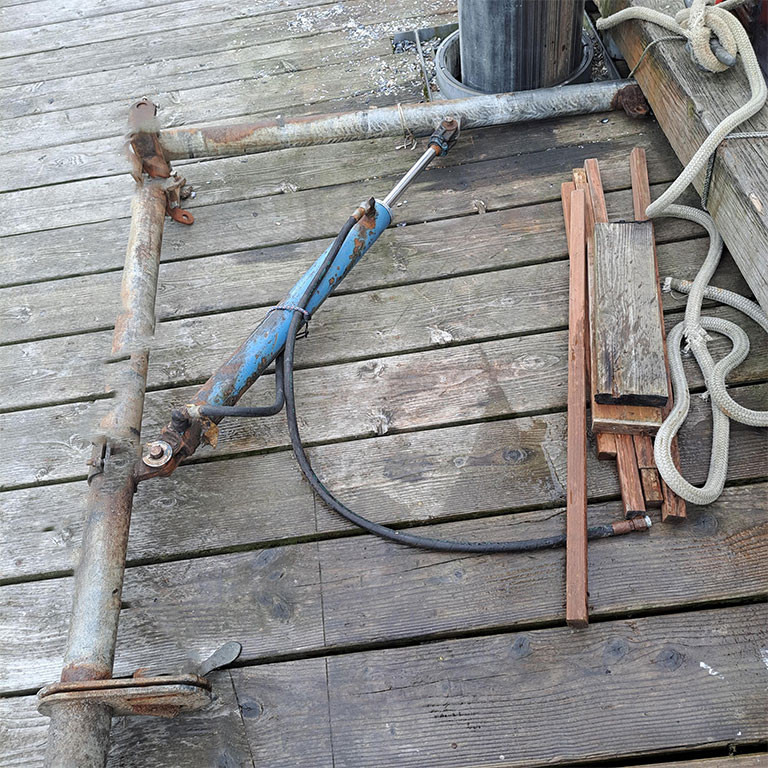 Gal. Steel Crab Davit for Sale
Submitted: 8/28/23
With hyd cylinder. Decent shape. $800 located in Sitka, AK. Will deliver to AML to be shipped (Seattle or wherever). Contact Brett Howey 907 738-0693 or email bhowey14@hotmail.com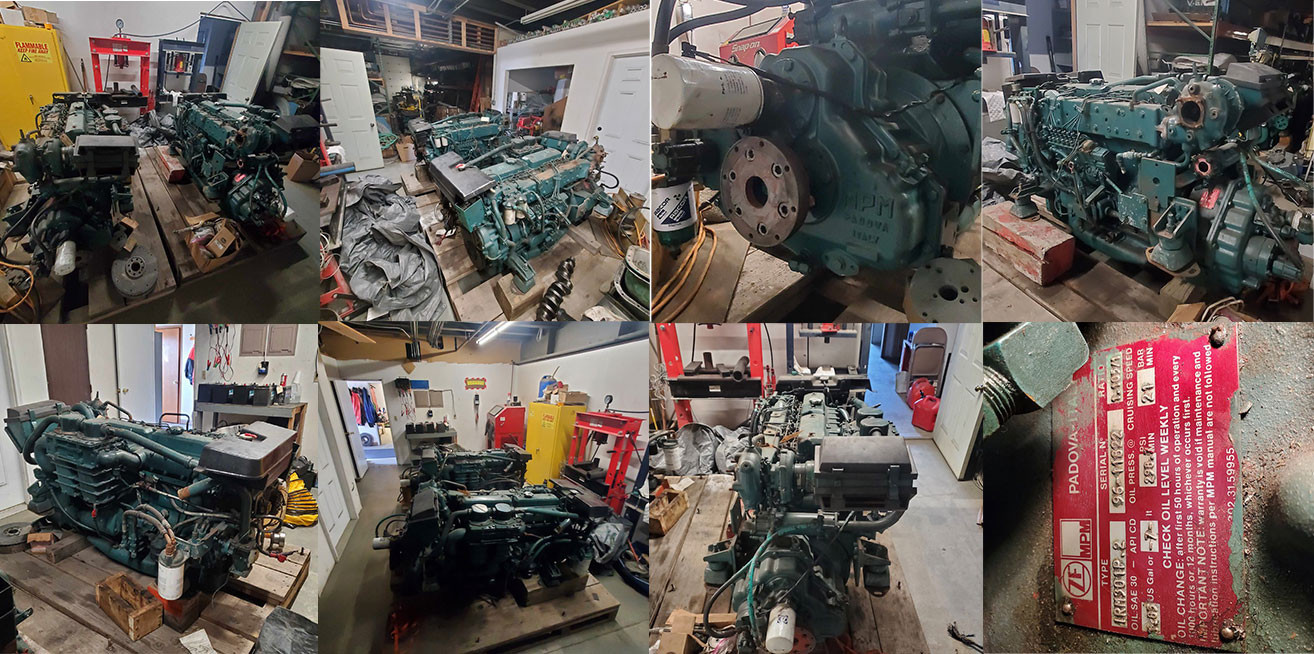 (2) Volvo TAMD72-WJ Running Take-outs for Sale
Submitted: 8/25/23
440 hp, water jet specific, ZF gears. Spares included (turbo, alternator, etc.). Engines located in Homer, AK. Additionally, identical parts engine located in Naknek. Asking $60k for everything. Call Tyler at 775-342-8145.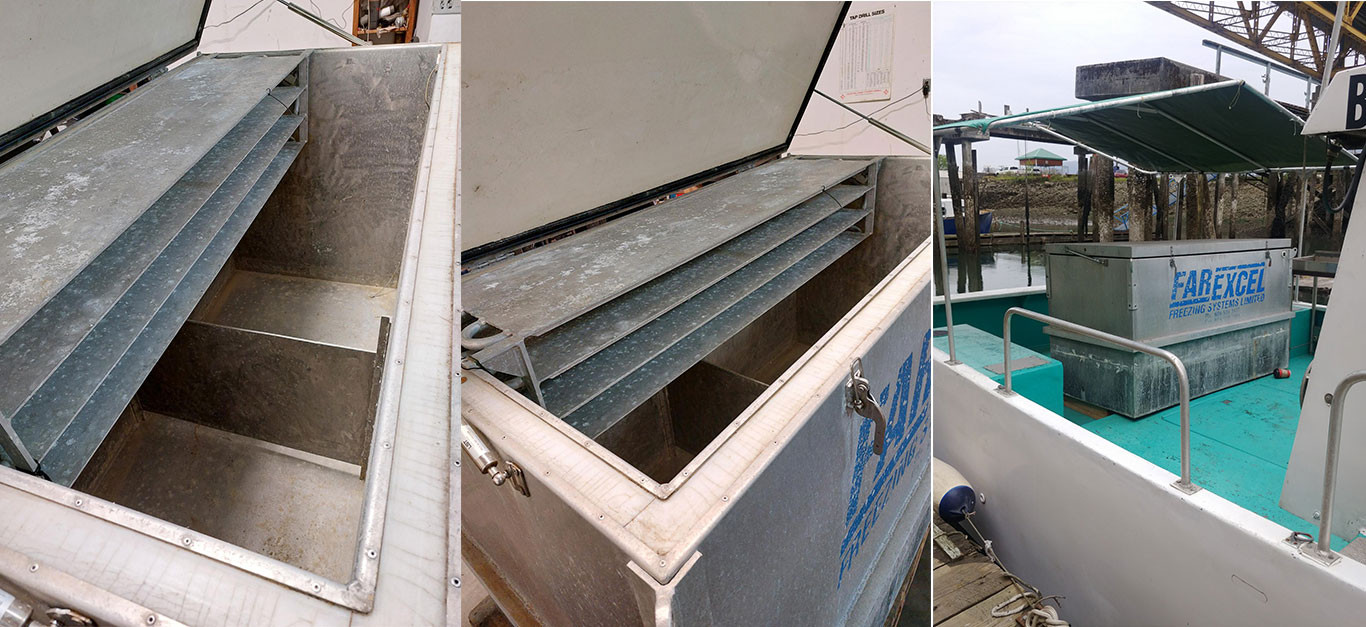 Self Contained Freezer Box for Sale
Submitted: 8/21/23
Single phase 240 volt, $9500. 778 836 2990

Marco B32 Two Speed Powerblock for Sale
Submitted: 8/11/23
Located in Seattle. In good condition. $25k. fvkonarose@gmail.com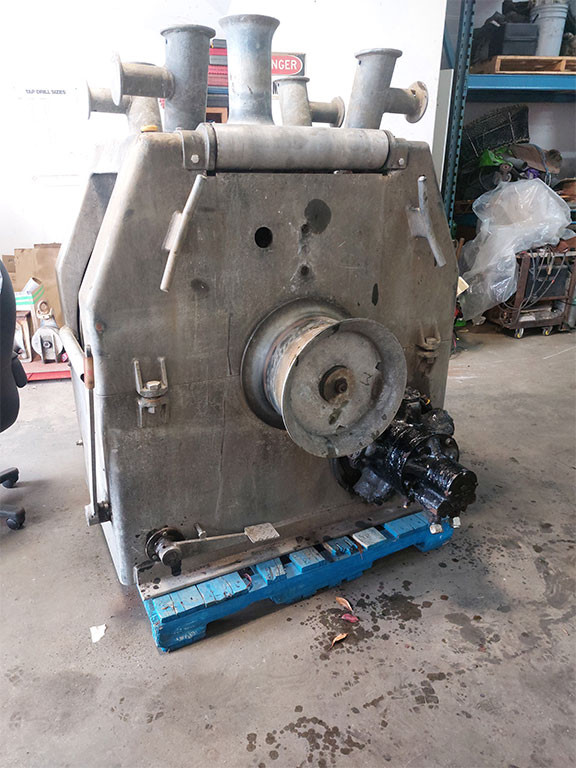 Pilkington Deck Winch for Sale
Submitted: 8/10/23
778 836 2990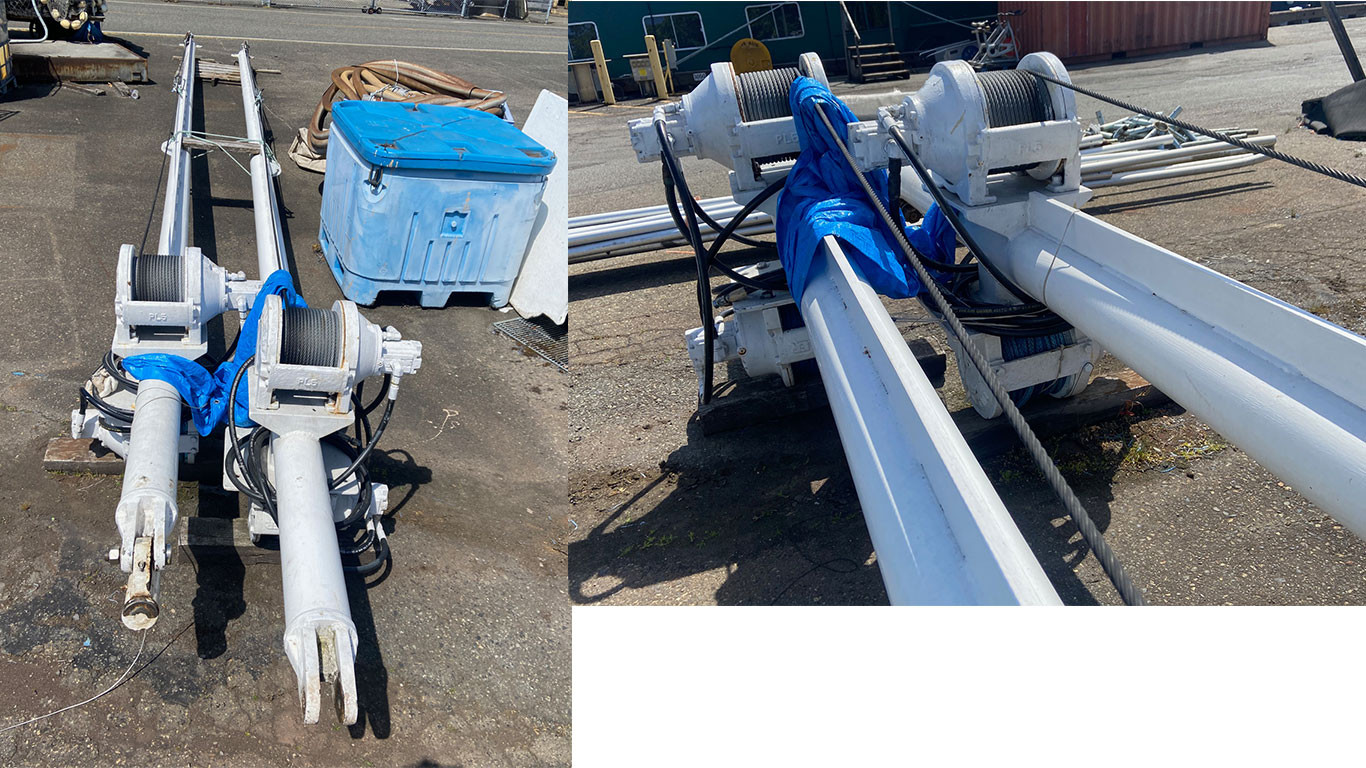 Booms and Winches for Sale
Submitted: 8/9/23
Two booms with winches. 5" steel pipe booms, 35' long. Built and lengthened by Delta marine with full strong back. Two winch pads on each boom. Two winches in good working condition. Rotzler winches, TH2 (2,000 pounds). New $3500 each. $4000 for everything or best offer: Call 206 669-4520 or call 206 852-3541.

Perkins 4-108 for Sale
Submitted: 8/4/23
Complete engine-Ins. panel to gear box. 2000 hrs on meter. Phone for info (Good rebuild) 360-267-0251 $1,200.00

4.5 Ton 24' Knuckle Crane for Sale
Submitted: 8/2/23
Comes with valve body and hoses. Hook up lines and away you go. One line by the power block needs replacing. 38k or trade? Text 775.721.3376

Sonar Wanted
Submitted: 8/1/23
Looking for sonar with 6 inch dome. 207-598-0017. Call or text Matt.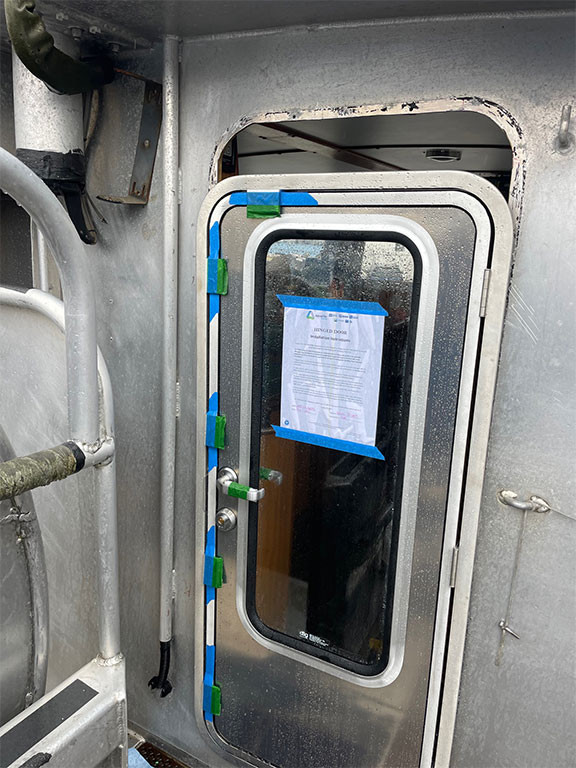 Diamond Sea Glaze Cabin Door for Sale
Submitted: 8/1/23
Brand new, never installed. 24" x 54" paid 5,000.00 will sell for 3,000.00. Located in Naknek. Call 907/232/8167

Bristol Bay Company Selling All Structures
Submitted: 7/27/23
Running large Caterpillar generators, flash and standard freezers, compressors, evaporators, sliming and processing tables, egg machines, processing plant with building 250'x 120' two story. (Garco insulated and engineered) a dozen Garco steel bunkhouse or other use engineered buildings, warehouses, Ryan dewatering systems, anchors, chain, marine motors and pumps and much more from this once operating major processing facility. We need to sell to utilise the dock space and land area. Selling to first decent offers. Randy Zimin, South Naknek, 907-246-6312 or 6315 907-369-0884- mobile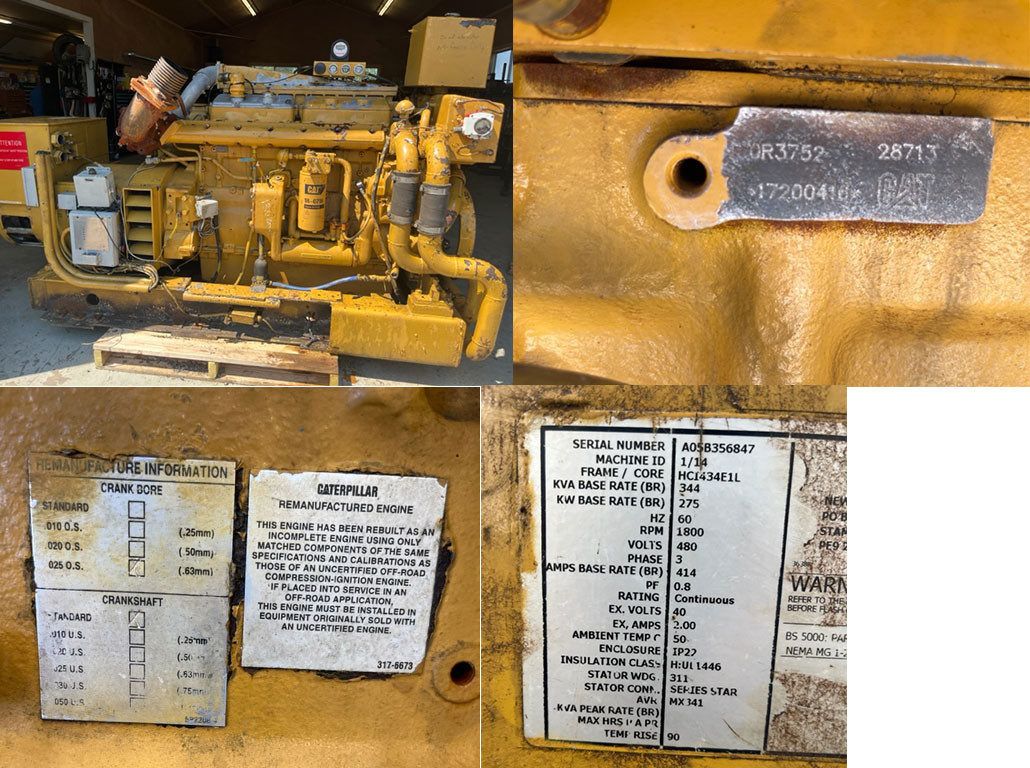 3406 Marine Generators for Sale
Submitted: 7/27/23
Two available. Rated 275 kw. 480 volt. Around 12,000 or 13,000 hours each. $18,500 USD plus freight. craig@industrial-bay.com 519 2675203 or 709 579 7040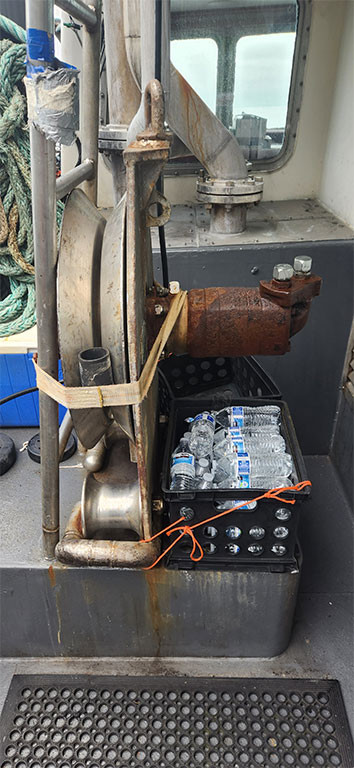 Yaquina 24 inch Pot Hauling Block for Sale
Submitted: 7/26/23
SS sheaves driven by series char-lynn. $8,000.00 360 951 9213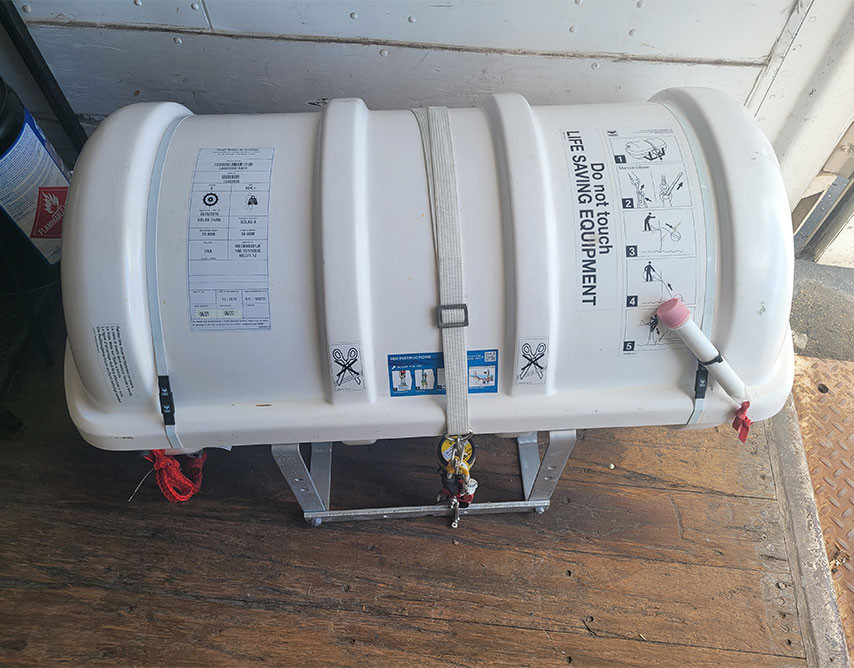 Viking 6 Person Lift Raft for Sale
Submitted: 7/24/23
$1800. Solas A pack. New in 2020, needs service for 2023. Almost new, only needed for 1 trip. Located in San Diego. John 619-279-9842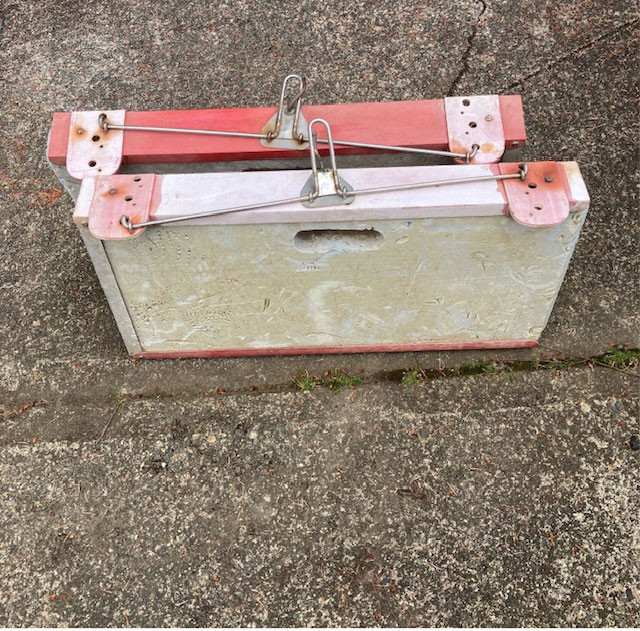 Trolling Float Bags for Sale
Submitted: 7/17/23
Matched pair - $220. Can deliver to Fisherman's Terminal. 206-714-0682 (John).
Pac West 8.5 for Sale
Submitted: 7/12/23
New 2022, chilled 40k. Located Naknek, AK. Asking $18k. Contact John Benson 425_350_8188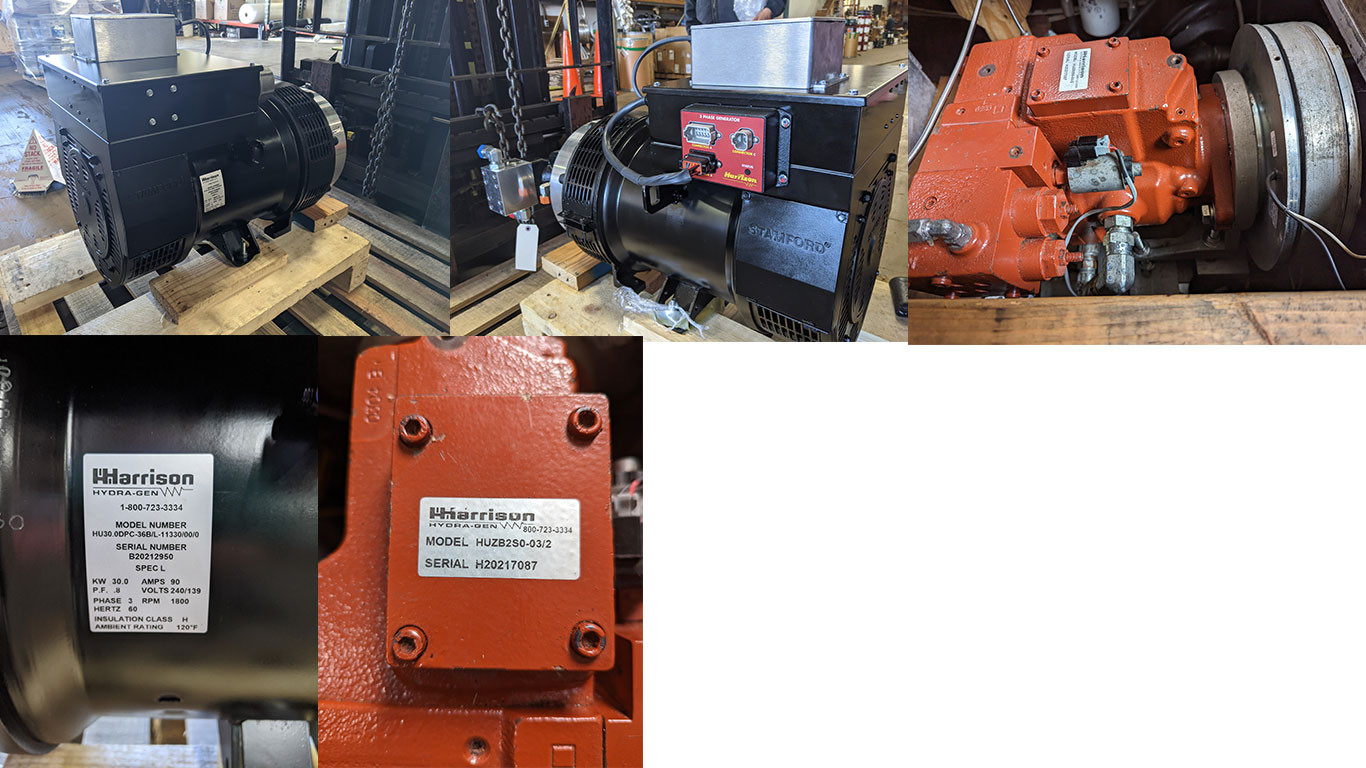 Stamford 30kw Hydraulic Generator for Sale
Submitted: 6/28/23
Oil temp sensor, hz, voltage, and hour meter. Like new. Quiet, and no exhaust. Also have hydraulic pump and 1000lb Pitts clutch to run the system. Purchased in 2021 and no longer necessary for me. $25,000 package. 360-580-5754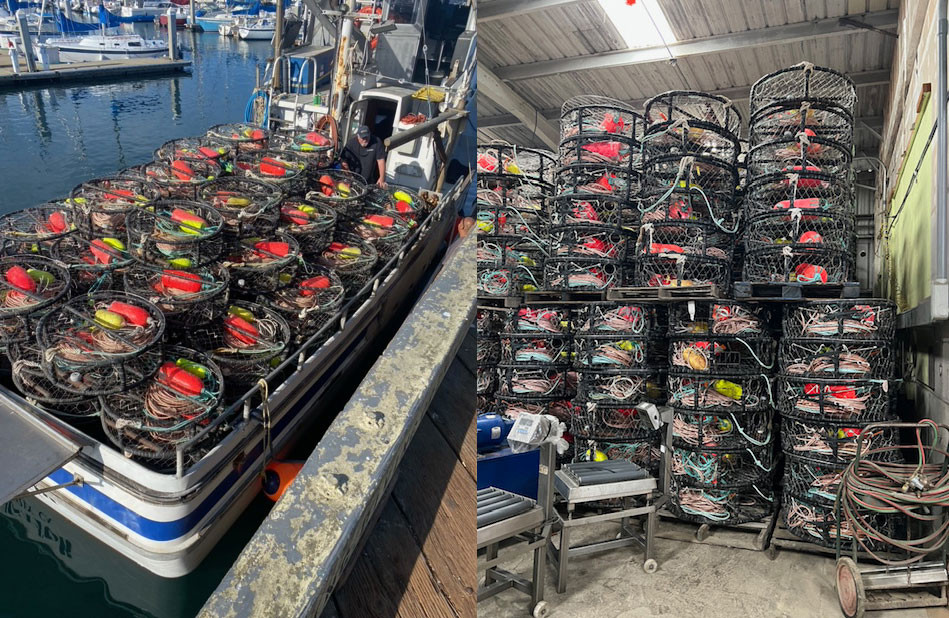 400 Dungeness Crab Pots for Sale
Submitted: 6/23/23
$250 each. Like new only used partial season. Fully rigged. Does not include buoys or bait jars. 38 inch commercial Rio Dels. 4 escape rings, welded tunnels. Matching hydra pro/polysteel butt spliced. Located Monterey CA possible deliver. Contact 805-698-8260 dguglielmo@galatiyachts.com

Wanted: Anchor Winch
Submitted: 6/21/23
Looking for an anchor winch that can be installed on a 115ft research vessel. Used drag winch will work. Call Roland 907 398 7992 cell.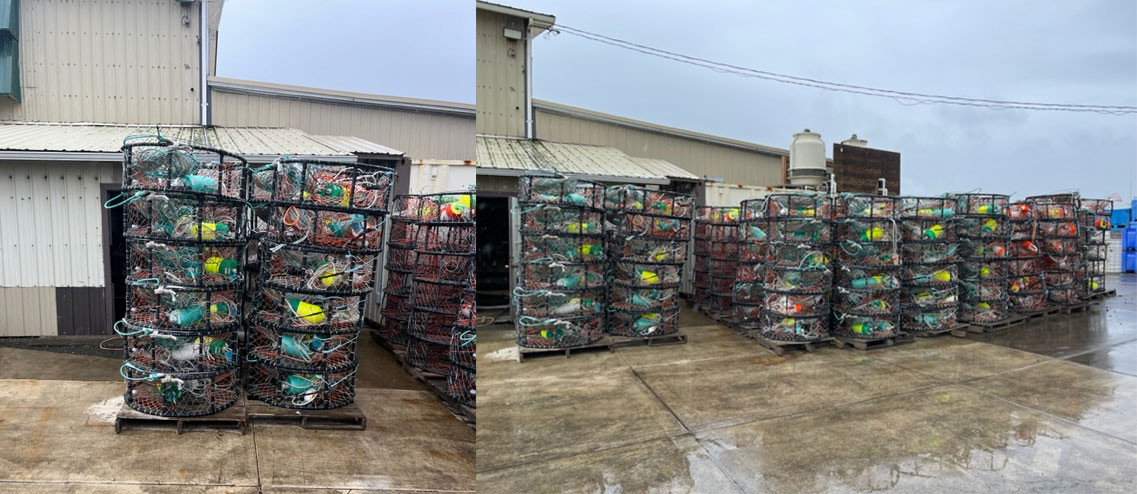 125 Dungy Pots for Sale
Submitted: 6/16/23
Fully rigged, located in Kodiak. Call Zack at 206-962-7472

Wanted: Pelican Hook
Submitted: 6/16/23
Call/text Tom Brayton 907 723 7811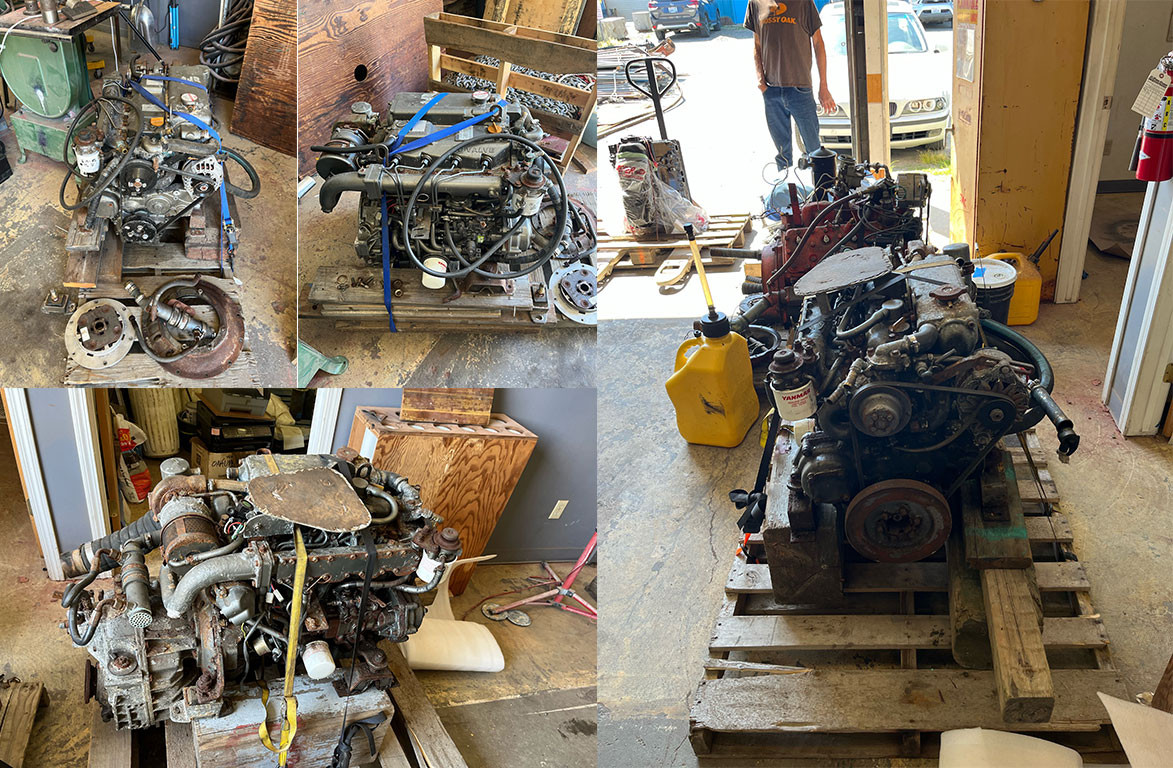 Two Yanmar 4JH4-TEs for Sale
Submitted: 6/9/23
Newer one approx 2000 hrs. No gearbox on RTO. Older one has ZF gearbox with approx 5000 hrs on RTO. $5,000 for both. Randy Day 2532325407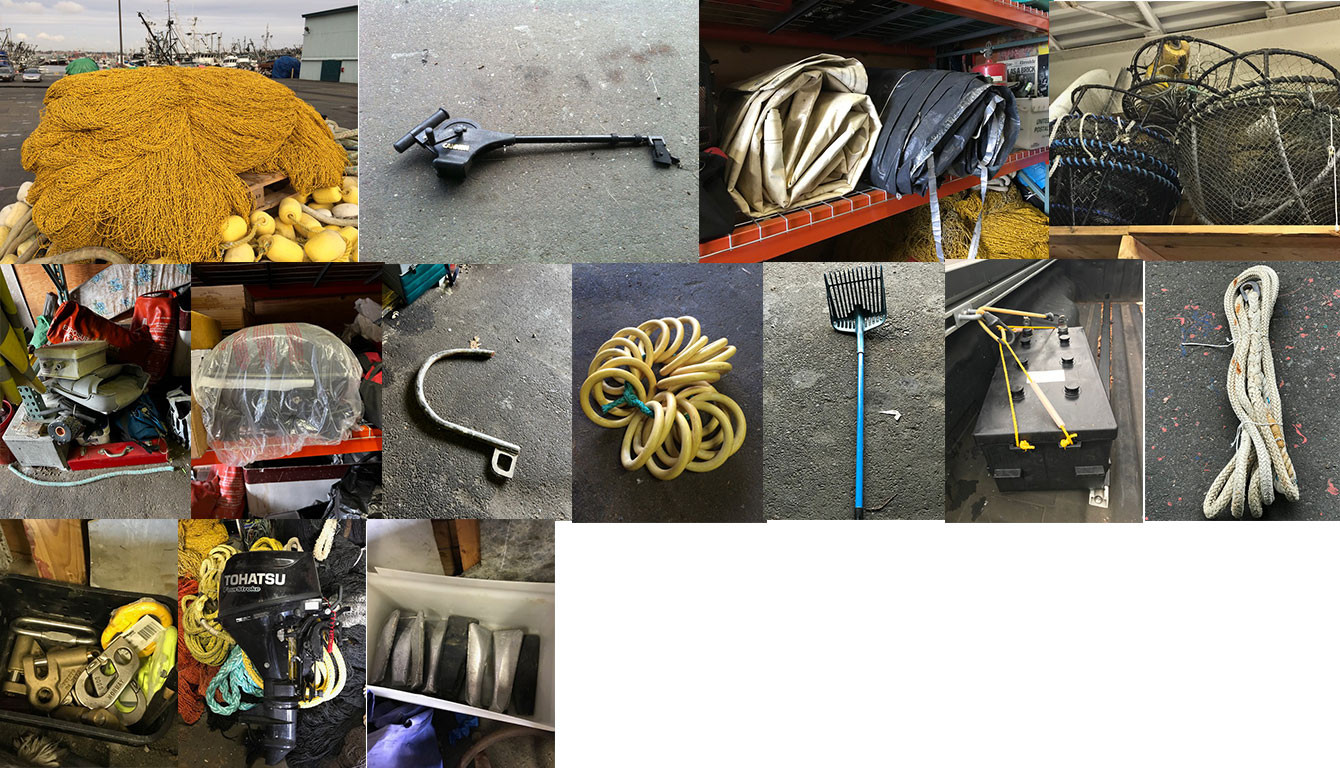 Fishermans Terminal Locker Sale
Submitted: 6/7/23
Misc seine gear, etc. Lots more 206seven one eight-9917
Thermal King Unit for Sale
Submitted: 6/5/23
Self contained with power plant, diesel, 2098 hrs, $3500.00. Call Pat at 206-200-7589.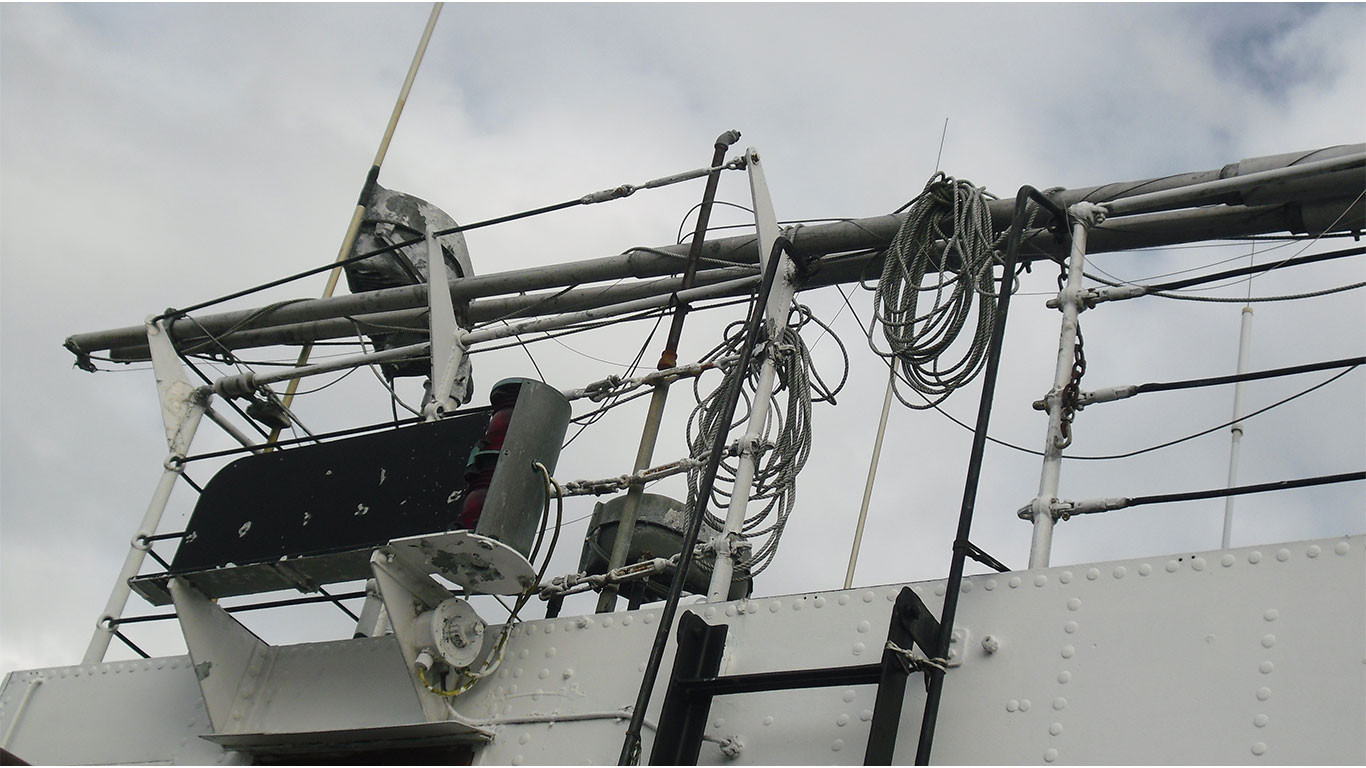 28' Tuna Poles for Sale
Submitted: 6/5/23
$3000.00 Call Pat at 206-200-7589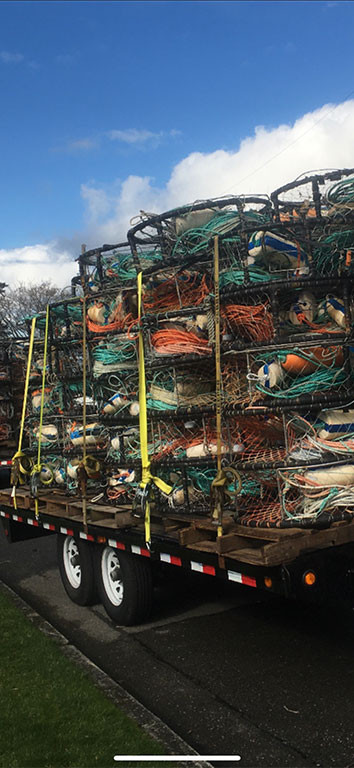 500 Dungeness Pots for Sale
Submitted: 6/2/23
38 and 40 inch, some in good condition and some in excellent condition, comes with 15 fathoms of line, buoys and bait jars for each pot. Located on the South end of Kodiak. $150.00 per pot. Pleas call 907-942-1282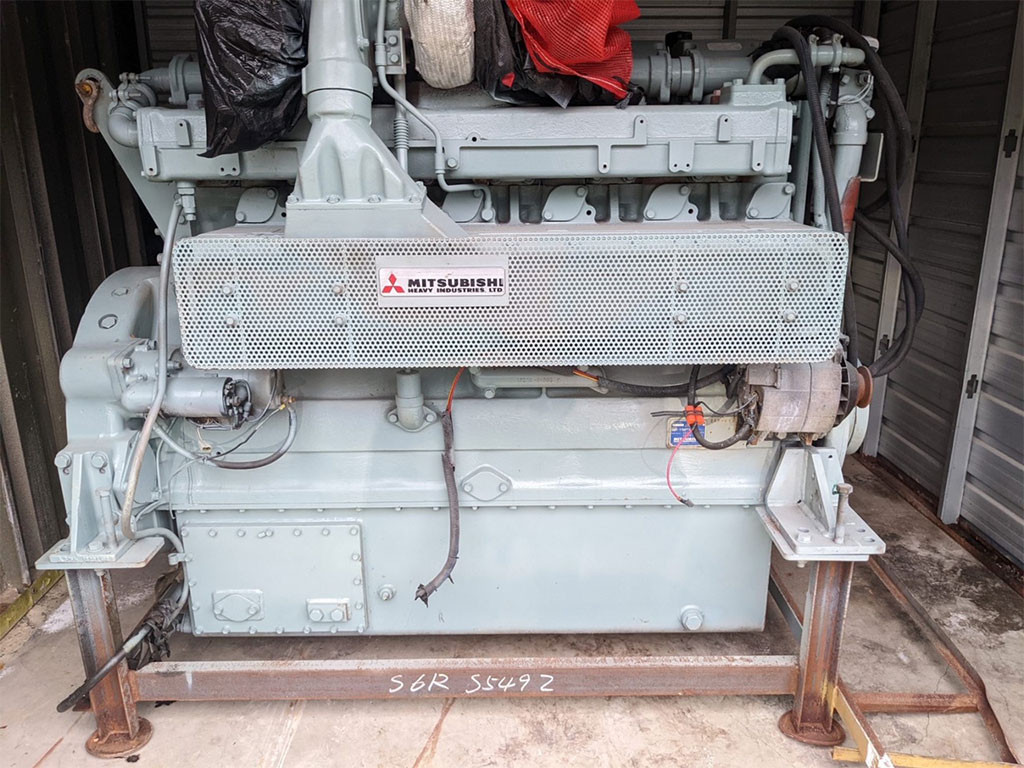 Mitsubishi S6R-Y1MPTA-3 Marine Engine for Sale
Submitted: 6/2/23
Had around 5000 hours and was completely rebuilt by insurance after water got down stack in a storm. Was used for a few hundred hours and then the boat was decommissioned. Engine is like new. Rated 590HP @ 1600 RPM. $36,500 USD delivered to west coast of Canada or USA. More pics on request. craig@industrial-bay.com 519 2675203 or 709 579 7040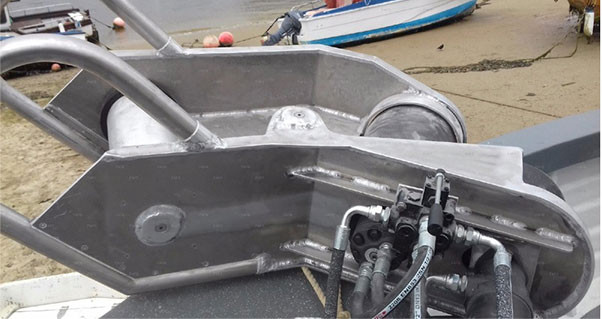 Sovereign Net Hauler for Sale
Submitted: 5/30/23
This unit has a 400mm front roller 6 inch with shields as standard on our units.The motors are upgraded for double to torque and slower speeds to increase grip on rubber parts when powered by main engine. Roller bearings in S/S with extra seals to prolong life and keep any sand or grit out of housing. Materials are all Marine grade 5083 Marine Ali frame and 316 S/S horns. Maine drum can be turned round for extra life. Asking $4200 Boise. Pleas contact Mike fintokz4@gmail.com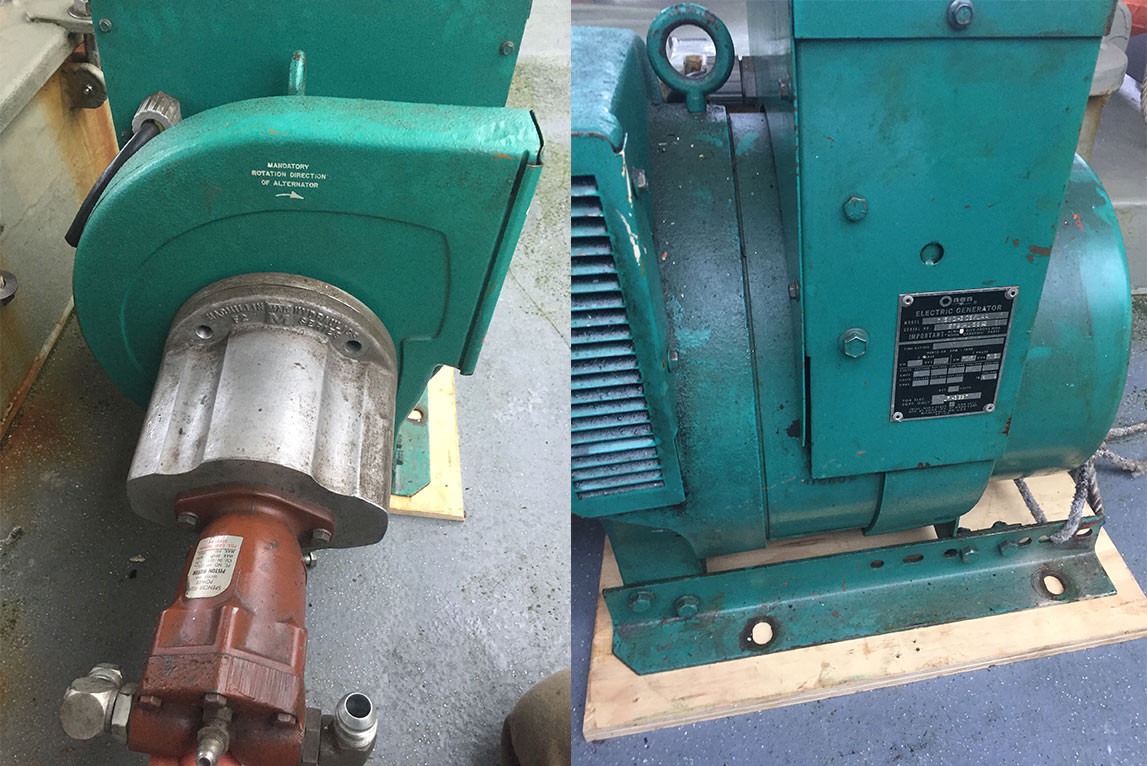 7.5 KW Hydraulic Cruise Generator for Sale
Submitted: 5/25/23
Generator with Spencer hydraulic piston motor. Sweet setup. Will ship. $400. (907)321-2529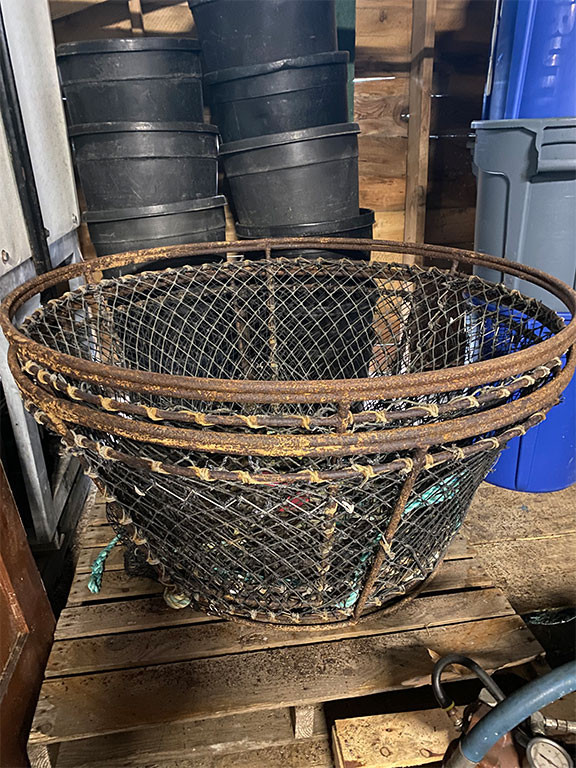 4 Foot Dungeness Gear Works Black Cod Pots for Sale
Submitted: 5/25/23
In new condition. $100 a piece or $150 takes both. (907)321-2529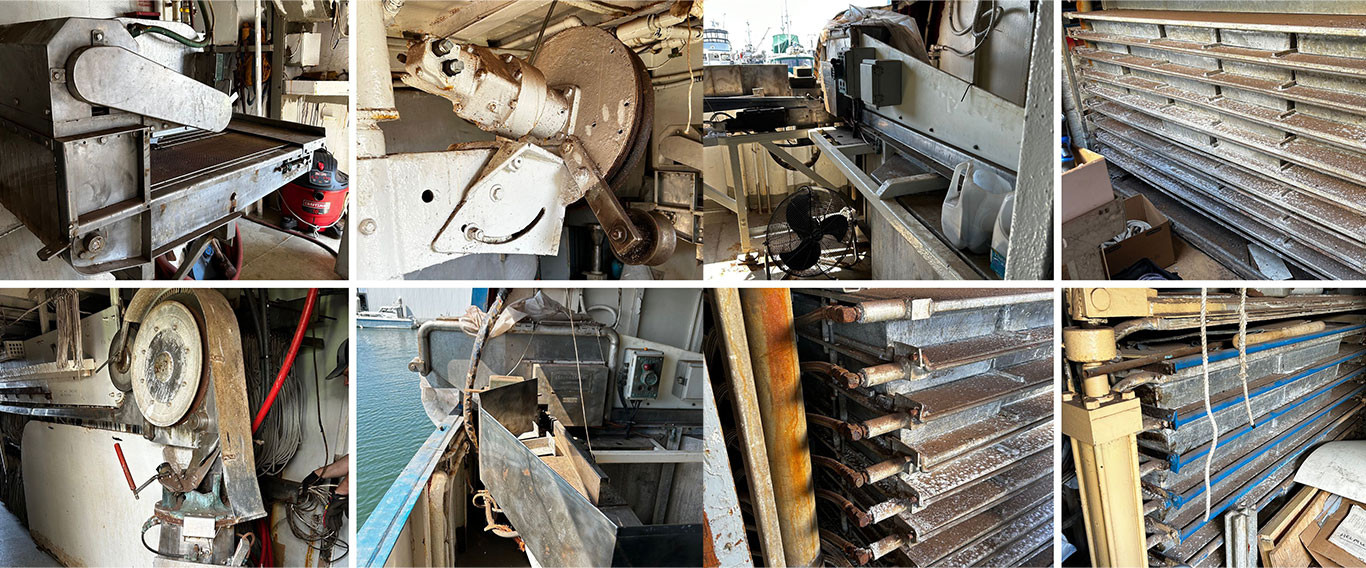 Freezer Longline Gear for Sale
Submitted: 5/23/23
Coming off a 77ft vessel. Located in Bellingham. Make an offer on individual or multiple pieces of gear. Contact steve@shfishingllc.com to get more information.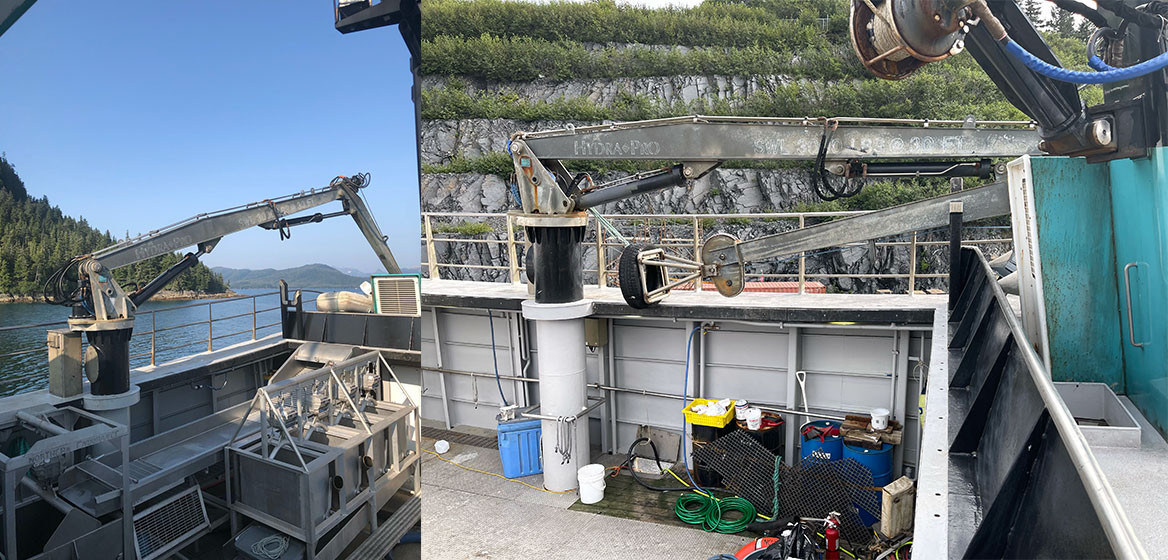 30', 3k# Hydra-Pro Knuckle Crane for Sale
Submitted: 5/19/23
Single swing motor. Includes 11' pedestal. Rotzler winch. Ready for tendering. In Kodiak. Asking $20k. Call Aaron at 425-879-1619.

Equipment for Sale
Submitted: 5/17/23
4' high speed Jet trawl doors ($2500 for pair, used 1 month). 2 KYB - 30 hydraulic winches ($2500 ea. or $4000 for both, like new). 250 or more crayfish traps. 9000 ft of ground line (5/16). 1414 - 40" red buoys. Steel cable (trawl). 6 large (1500 lb capacity) insulated fish totes. Used 3160 Cat diesel engine ($2000 OBO, runs good, great on fuel). Equipment located in Carson City, Nevada. Contact Vince @ 604-653-0957 aquatreasuresvince@gmail.com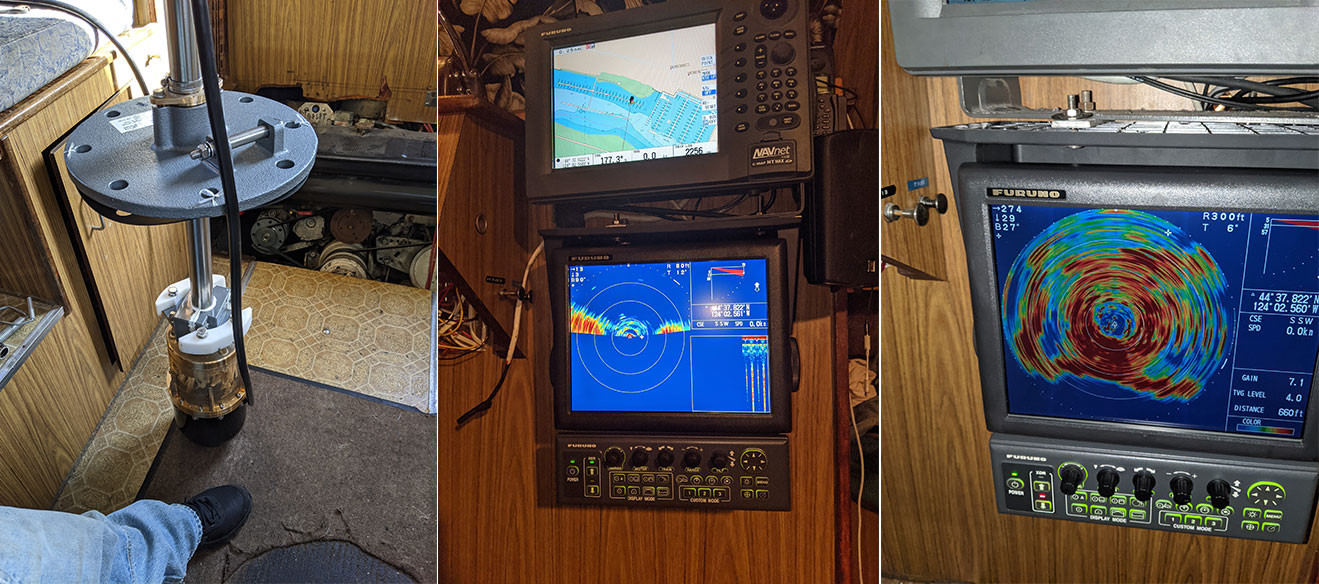 2021 Furuno CH500 Searchlight for Sale
Submitted: 5/16/23
2021 Furuno CH500 searchlight sonar with fiberglass tube. $15,000 located in Westport. 360-580-5754

Wanted: Full Size 1000 Watt Sodiums
Submitted: 5/15/23
Instead of the dumpster will buy for a fair price. Don't need ballasts or bulbs. Will pickup from Blaine to Seattle. Ron 360-305-0255

Steel Boom for Sale
Submitted: 5/8/23
32ft 6in steel boom with all new winches in 2016. $15,000. 907-299-2045

Boss Snap Hooks for Sale
Submitted: 5/8/23
Like new and new #5 - $75, #6 - $100, #7 - $150. Aaron 360-770-0534
20KW Northern Lights Generator for Sale
Submitted: 5/1/23
20kw Northern Lights generator, running takeout, runs well. Single phase, raw water/heat exchanged. Includes gauges and spare water pump. Asking $4k OBO. Call Nick - 206-851-0391